Since it's a mixture of two different painkillers, it's natural for you to be curious about which medications co-codamol plays nice with.
Today we've detailed if co-codamol is compatible with one of the most common painkillers on the market, ibuprofen.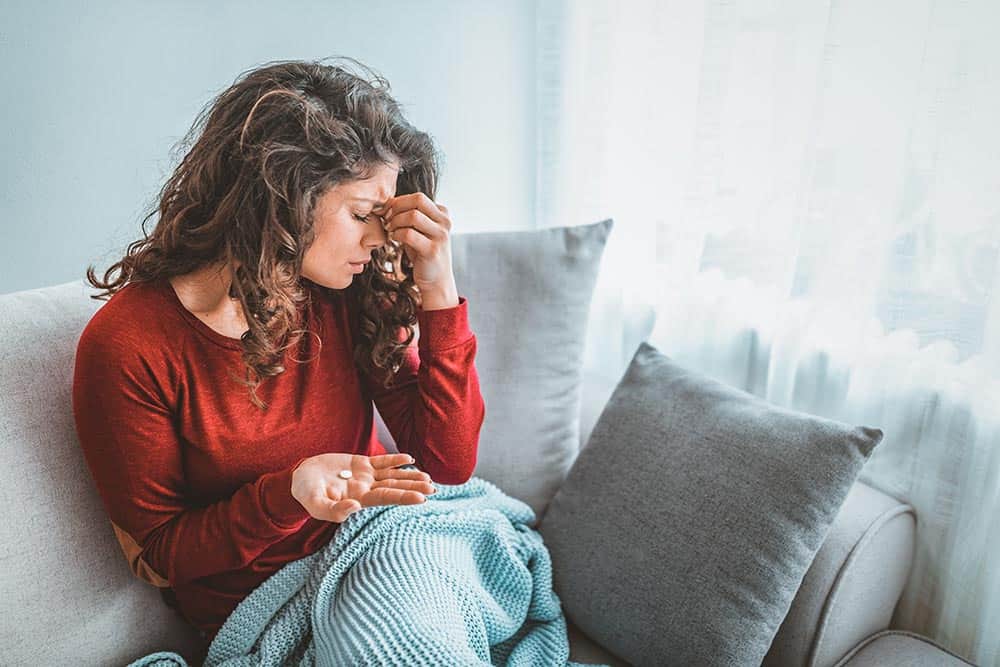 We've done this by first tackling what ibuprofen and co-codamol are. From there, we've explained how they interact with other drugs. Not only have we included if you could take ibuprofen with co-codamol, but we've also explained how these drugs interact with other common medications and conditions.
Then we've closed out with a rundown of the side effects of each, so you know what you're getting into by taking these. As always, visit a medical professional if you're unsure about your compatibility with these drugs.
What is Ibuprofen?
Ibuprofen is a common drug that can be purchased over-the-counter and without prescription, so many of us have probably taken it before.
When you're taking ibuprofen, you're taking an NSAID. That stands for Non-Steroidal Anti-Inflammatory Drug, which dispatches hormones that cause swelling and reduces the pain that swelling causes.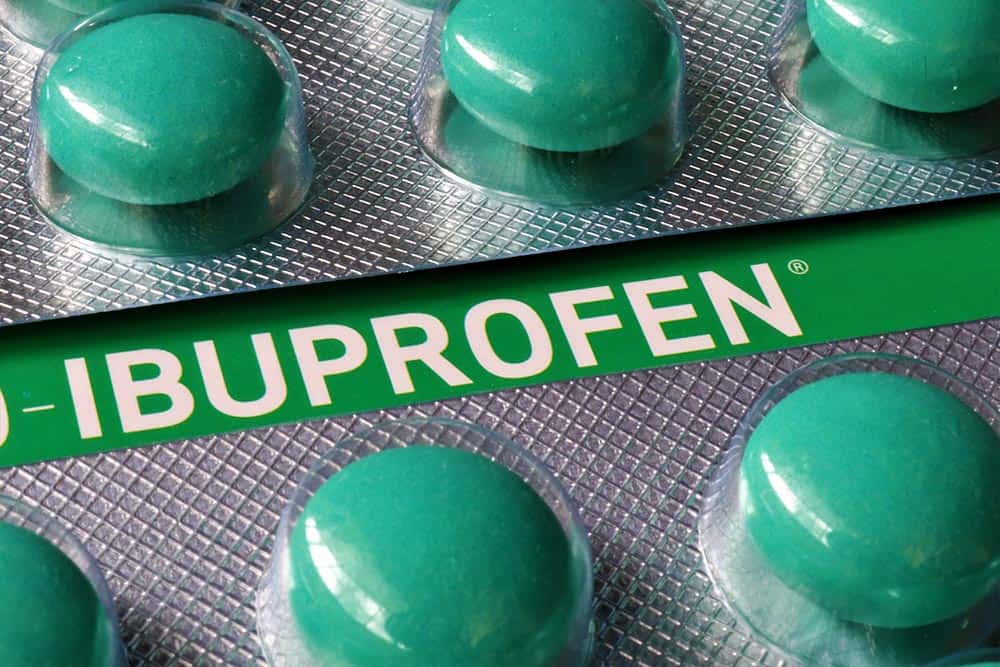 Whether it's in the form of syrup, capsules, or a gel applied to your skin, ibuprofen treats internal aches and pains quite well.
If ingested, it'll take action within a half-hour while it can take a day or two if you've applied it to your skin. Ibuprofen is best consumed with food as an empty stomach can cause discomfort.
What is Co-codamol?
Co-codamol is a combination of paracetamol and codeine that's easier to get your hands on than straight codeine, which usually needs to be prescribed as it's a stronger painkiller.
Co-codamol is a lighter codeine variant that has been diluted with paracetamol and can be acquired over the counter.
It's used to treat everything from headaches and migraines to toothaches and physical muscular pain.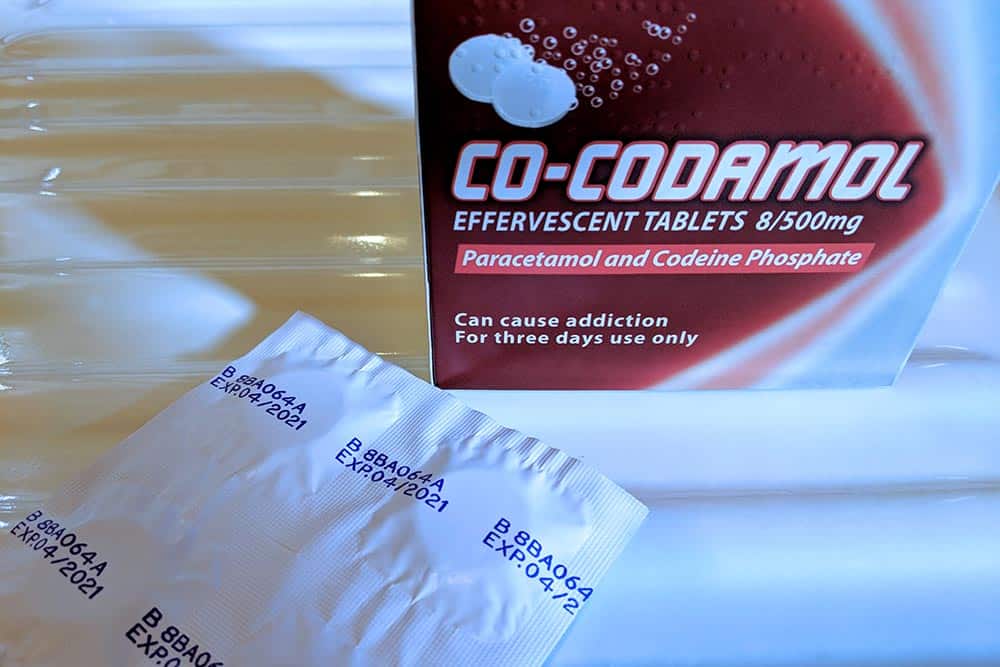 Though it's not as strong as codeine, it's still advisable to take co-codamol only where other painkillers like aspirin and ibuprofen haven't worked.
Available in capsules and tablets, co-codamol varies in strength. The weaker ones can be bought in pharmacies while the stronger stuff is locked behind prescriptions, like codeine.
Whichever way you got your hands on co-codamol, stick to the recommended dose as taking too much can be harmful. Don't get tempted to increase dosage if you're feeling more pain.
Co-codamol can cause breathing problems in children under twelve years old, so don't give this drug to minors.
Do They Interact?
Ibuprofen doesn't interact with co-codamol, and so is safe to take at the same time.
Ibuprofen and codeine are both painkillers and largely compatible with other painkillers as a result.
Ibuprofen, codeine, and paracetamol are all compatible with each other, so it's possible to take ibuprofen with co-codamol without any worry.
What ibuprofen can't be taken with, however, are other NSAIDs like aspirin and naproxen. Doing this will cause a stomach ache and increase the chances of suffering from side effects.
It's possible for on-the-shelf medications to have NSAIDs in, so consult the label for all the information you need. Check with your doctor if necessary.
You should also be careful when taking ibuprofen if you:
Had an allergy reaction brought about by ibuprofen or other NSAIDs, including a leaking nose or adverse skin reactions.

Have high blood pressure that is untreated.

Are or attempting to get pregnant.
To avoid ibuprofen being given to you where it may harm you, tell your doctor if you've had any of these health issues:
Heart disease of failure.

Kidney failure.

Liver failure, fibrosis, or cirrhosis.

Crohn's disease.

Stomach bleeding, ulceration, or perforation.

Chickenpox or shingles.

Any health issue that gives you an increased chance of bleeding.
Note that people sixty-five years old and over are more likely to experience stomach ulceration.
With co-codamol, you should be careful of taking any medications that contain paracetamol. Since co-codamol is a mix of paracetamol and codeine, there's already enough paracetamol to treat any issues you may have, so taking extra paracetamol puts you at risk of an overdose.
Many cold and migraine remedies have paracetamol, so make sure you check the labels of anything you take with co-codamol.
Alert your doctor if you've had any of these before you take co-codamol:
Head injuries.

Issues with your adrenal gland.

Regularly drink over the recommended alcohol amount (over 14 units).

A pregnancy with or without breastfeeding, or an attempt to get pregnant.

Any lung problems or something that causes difficulty breathing.

Any liver issues that may affect the ideal dosage.

Had tonsils or adenoids removed due to obstructive sleep apnea, while being under eighteen.

Any condition that causes seizures.
Potential Side Effects
Even if a drug is safe to take with another medication, there are still side effects that you need to look out for. Let's take a look at them. 
The side effect rate of ibuprofen is roughly one in one hundred. Here are the common issues that can happen when you take ibuprofen. Remember to see the doctor or the pharmacist if these mild effects stick around.
Nausea and vomiting.

Headaches.

Dizziness.

Flatulence.

Indigestion.
As for the more serious ibuprofen side effects, call a medical professional immediately if you see any of the following:
Difficulty peeing, blood in your pee, or swollen ankles, all of which can mean a kidney issue.

Chest and stomach pain, which can be a perforation.

Any difficulty breathing, especially if it's asthma symptoms.

Bloody or black stool, a sign of stomach bleeding.

Any evidence of an allergic reaction to the ibuprofen.
Co-codamol doesn't have any side effects for most people and the risk of side effects goes up with your dosage. Co-codamol also has a rate of one to one hundred but the common effects themselves aren't as intrusive:
Drowsiness.

Headaches.

Nausea and/or vomiting.
When they do happen, the side effects of co-codamol can be quite severe. See a doctor immediately if you have:
Any skin rashes.

Trouble urinating.

Dizziness.

Any changes to your eyesight.

Any evidence of anaphylaxis.