Laser eye surgery has become one of the most commonly performed types of eye surgery all over the world. 15-25 minutes and you're out feeling better than ever, never needing glasses or contact lenses ever again. Hence, the number of clinics that have entered the competition is stunning.

These clinics include major names such as Optegra, Optical Express and Ultralase/Optimax. Each of them offers various accommodating bundles with different laser eye surgery costs and extended aftercare plans that can go 12 months or even 24 months.
How Much Does Laser Eye Surgery Cost in the UK?
The cost of laser eye surgery varies in London due to a bunch of different reasons. For instance; the type of laser surgery you wish to go with; whether Lasik eye treatment, Lasek eye treatment, or SMILE eye treatment, and whether you'll do one eye at a time; hence pay per eye, or do both together.
It also varies according to where you'll have it done; whether it'll be with the NHS, which is very rare and for certain situations, where it'll be for free, or with one of the clinics that offer the service.
Laser eye surgery prices can range anything between £595 per eye all the way up to £3,250 per eye. Another factor that heavily weighs the final cost of laser eye surgery will be if it's accompanied by other procedures such as Eye Mapping (iDesign, Wavefront), which we will discuss later on.
Different Costs That Go Into the Cost of Laser Eye Surgery
Another thing that you should be aware of is that the sum of money that we have spoken about isn't paid in full at once. Rather, it's split into two or three payments according to the rules and guidelines of the clinic itself.
Plus, if you were ever asked to pay the full price before your laser surgery, you should be suspicious of the clinic, and we do recommend that you find yourself another provider.
Moreover, if you do have any trouble financing the costs of the procedure as a whole, have no worry as due to the high level of competition amongst laser surgery clinics and businesses involved in the vision treatment field, they offer a lot of finance options for laser eye treatment surgeries.
You can pay over a period of 12 months and sometimes even more without interest. In such cases, we would advise you to read between the lines and read the fine print so that you don't end up paying an additional third of the original price in interest for your laser surgery.
Consultation
Most clinics would offer a free consultation to all patients. If it's not free, it can cost £25-£350 depending on the clinic itself, and most probably the price, or lack of, will be advertised on their website so that you're fully prepared.
Deposit
In order to set your words in stone and book a surgery date, you'll have to pay a deposit which is usually a certain percentage of the entire cost. That could be 10%, could be 20%, and it could be 50%, but never the whole thing.
Aftercare
Clinics hardly charge you for aftercare. Actually, some clinics offer lifetime follow-ups, 24 months free follow-ups, while others provide free re-treatment, with specific rules of course, and others offer 10 years of free follow-ups. 
So, you're not really charged for aftercare. Nevertheless, you'll pay whatever it's that has remained from the total amount when you're exiting the clinic/hospital.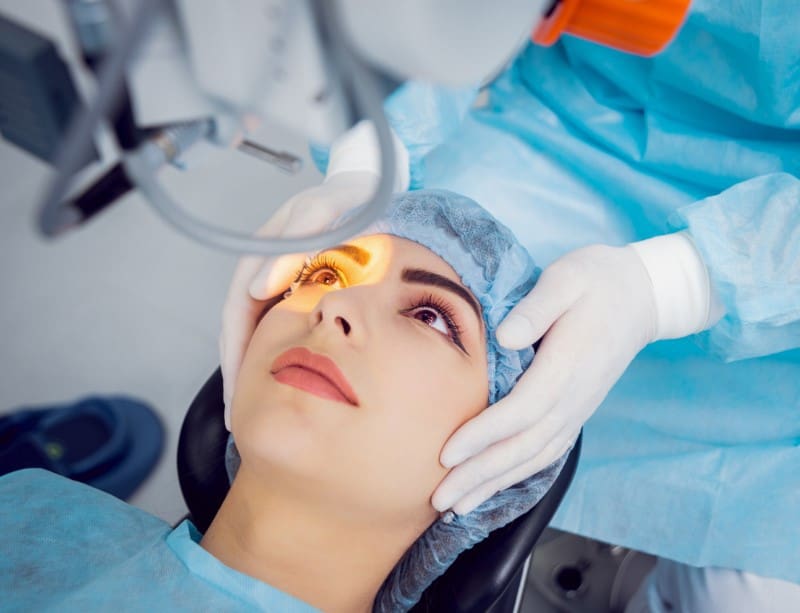 Does Private Insurance Subsidize Laser Eye Surgery?
Sadly, private insurance has no support or subsidization for vision correction surgeries because, in the end, most of the time, these surgeries are elective. People choose to undergo them in order to avoid the usage of glasses and contact lenses in favour of natural vision.
On the other hand, there are some cases when laser eye surgery is needed medically, and that is when private insurance must step in and help the patient. These conditions include:
Corneal diseases that can lead to loss of eyesight, such as corneal erosions

Lens capsule thickening which can be a result of recent cataract surgery 

Age-related macular degeneration 

Diabetic retinopathy
All of these conditions can lead to blindness, and surgical intervention is needed.
Can You Get Laser Eye Surgery on the NHS?
Unfortunately, the same things that we have said about private insurance go for the NHS. Because, in the end, the national health system doesn't aim to improve your appearance, but your health only. 
Consequently, any cases that aren't threatened medically by blindness won't be able to get support from the NHS. These patients include the cases that we have spoken about with private insurance.
Who Is Eligible for Laser Eye Surgery?
The very first thing that you need to know about eligibility for laser eye surgery is that a stable, consistent prescription is a must. You see, if the eyesight is fluctuating any more than a certain limit, it means that it might fluctuate again post-surgery and render it useless.
Over the course of two or three years, the patient's eyesight must've not changed anything more than 0.5 points. 

They also need to be in good general health with no diseases or conditions that might cause complications during the surgery.

They need to be over 21 because that's the time when the eyesight starts stabilizing.

They need to be under the age of 45 because at that age, vision starts to worsen naturally, and people start needing reading glasses all over again.

They also need to have overall healthy eyes.

They cannot be pregnant or breastfeeding due to all of the hormonal changes.
Who Should Think Twice When Considering Laser Eye Surgery?
There are some cases when some clinics and surgeons will be a bit hesitant about performing refractive surgery. Nevertheless, in the end, detailed eye scans will be the final determinant. 
Still, laser eye surgery may not be your optimal option if: 
You're a type one insulin patient 

You're over 50 

You have a considerably high prescription; whether shortsighted, long-sighted, or astigmatism 

You have naturally extremely dry eyes
Can You Go Blind From Laser Eye Surgery?
As a matter of fact, it's scarce that someone can go completely blind from laser eye surgery. This means that they get up from the operation table with no sight and complete blackness.
Actually, the chance of that happening is one in every 5 million. Nevertheless, it's surgery. It involves your eyesight; hence, it's crucial for the surgeons and patients to have patience and be extra careful with all of the needed aftercare to prevent certain conditions from happening. We will discuss that in the complications of laser eye surgery.
What Are the Types of Laser Eye Surgery?
One of the major decisions you have to make when you start thinking about a procedure such as a laser eye surgery is the type of operation you would like to undergo. Make no mistakes here; the decision will heavily depend on what your surgeon will tell you during the first consultation.
Either way, every now and then, much more effective technology in the field of surgical eye treatment emerges. Still, before you go and get hit by all of that information at once, you might want to take a look at these first:
1. Surface Laser Treatments (LASEK/Laser Epithelial Keratomileusis, PRK, TransPRK)
Our first type of eyesight treatment is all surface laser treatments. And by a surface, we mean that a part of the corneal cover is rolled back in order to access the cornea itself and re-shape it with the laser beam.
This happens after a specific diluted-alcohol eye drops are used on the eyes to soften them and prepare them for the treatment.
This procedure is, of course, a good option for people with thinner corneas as the surgeon only rolls back a very thin flap of the corneal cover. Hence, there is no/minimal waste of precious tissue.
Nonetheless, it'll take longer to heal, and it has been known to be a bit more painful than other options. Only one beam is needed for this treatment.
2. Lasik/Laser-Assisted In-Situ Keratomileusis
Lasik, on the other hand, requires two laser beams. One of them will create a flap out of the corneal cover, without entirely removing it, and the second beam will be used to correct the corneal shape. After that, the flap will be returned to its original place, and it'll take less time to heal as everything is back in its place.
Since the beam used with the Lasik procedure is a different one, it leaves behind less corneal tissue as it re-shapes it into an almost-perfect shape. Hence it's not suitable for people with thinner corneas as if any re-treatment is needed; it'll be a challenging procedure as there isn't much corneal tissue left to work with.
On the other side of the spectrum, it's less painful than Lasek, and it heals a lot quicker.
3. SMILE/Small Incision Lenticule Extraction
SMILE is more like the endoscope of surgical laser eye treatments. Here, vision correction happens without creating a flap and without removing the corneal cover. 
The surgeon creates a tiny hole in the cornea cover by using an infrared/femtosecond laser. Through it, they re-shape your cornea back by removing the lenticule, to its standard shape and restore your normal eyesight. 
The small entry holes that were made are completely self-healing, and it takes very little time for the patient to return to their natural routine.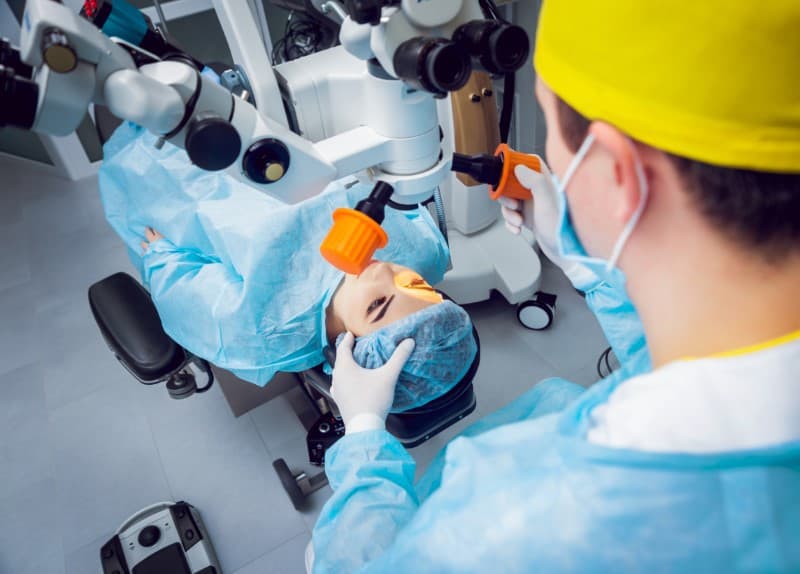 What Are the Possible Complications of Laser Eye Surgery?
As we have said before, although the technology of laser eye surgery has allowed the patients to be inside the clinics/hospitals for a short period of 15-25 minutes, it still is a significant surgery relating to your ocular health, sightedness, and overall quality of life.
Consequently, you must know all of the information out there before you step foot inside one of the clinics and pay your laser eye surgery fees. That information includes all of the risks and complications that can come with Lasik, Lasek, and SMILE treatments.
Infections
Infections following any type of laser eye surgery happen with less than 1% of Lasik, Lasek, and SMILE patients. Hence, this type of vision correction technology probably holds one of the lowest rates of contracting infections.
Still, on the rare occasions when they do happen, they're mostly the result of bacteria that have found their way under the flap through the eyes, and a specific course of antibiotics can control them.
So, if you feel any extra discomfort after your surgery and you find that your eyes look abnormally red, then you should head on back to the clinics, find your surgeon, and they will help you with a prescription of antibiotics.
Constant Dry Eyes
We have already mentioned that people with consistently dry eyes are not the best candidates for laser technology, and that is because one of the stable complications of vision correction by laser is dry eyes.
Now, mostly, this takes a few weeks, and it resolves by itself. Nevertheless, with some patients, it can persist for much longer than that. Plus, if someone comes in with already dry eyes, they boost this specific risk quite a few notches. Most probably, they will have to rely on hydrating eye drops all of their lives.
Corneal Scarring
If a patient contracts a severe form of eye infection, that will undoubtedly affect the wound healing process, which means that some heavy scarring might occur. 
Since we're talking about the eyes which are a very sensitive organ, severe over-scarring might very well cause a damaged block of tissue in the cornea. This means that a whole piece of the cornea will be completely nonfunctional. 
Nonetheless, this can be corrected if spotted in due time, and statistics say that less than 1 in 5000 people will require a corneal transplant for these eye conditions.
Unstable Corneal Shape
The unstable corneal shape is also known as corneal ectasia, and it's another common complication that can follow laser vision correction treatment. What happens is that the exposure to the laser beam makes the cornea unstable, so it tends to bulge forwards during variable unpredicted times. 
Unfortunately, this bulging has a negative effect on the cornea's biochemical integrity, and it affects the overall tensile strength of the tissue involved. Yet, this complication only happens to 0.04%-0.6% of patients who undergo Lasik treatment, Lasek treatment, or SMILE treatment. 
Additionally, if it reaches an extreme level, corneal ectasia can be resolved through a corneal transplant procedure.
Glare
Glare or Halo effects are other common eye conditions that follow the exposure to Lasik technology. This mostly happens to patients who have had remarkably high prescriptions for their glasses or contact lenses.
Hence, they needed a lot of correction, in addition to those who enjoy much larger pupils. During the first few weeks after the surgery, specifically at night, this is very normal and is supposed to disappear by time.
But, if it persists for more than that, we suggest that you head back to your surgeon, and discuss it with them as this can cause car accidents pretty easily.
Worse Vision
Whenever you mention laser eye surgery, many people will tell you that they either went through with the procedure or they know someone who went through the procedure and still needed their glasses or contact lenses afterwards.
This means that they still had a prescription for short-sightedness, long-sightedness, or astigmatism, and unfortunately, that is true for around 5% of the cases. That is why a lot of the guidelines of the procedure have been set in place to ensure, as much as possible, the removal of glasses and contact lenses post-surgery. 
Still, if the patient has had poor eyesight for a prolonged period, it might not be just a long-sightedness or short-sightedness problem. In fact, the eye's intraocular quality might have been reduced, and that cannot be fixed by any type of medication. 
Blurry Vision 
Blurry or hazy eyesight is a very logical result of having a flap of your corneal cover rolled back, and a direct beam of laser focused on your cornea in order to re-shape it. 
The blurry vision will be there for some time until you get used to your new vision without the need for glasses or contact lenses. 
Your surgeon will specify the limit of time when the blurriness ought to stop. Otherwise, you'll have to head back to the clinics where you've had your vision treatment.
Cataract Surgery 
Having a successful cataract surgery after having a Lasik, Lasek, or SMILE treatment is relatively uncommon. That is due to the changes in the intraocular lens. 
Consequently, a very prudent thing to do is to keep all of your eye measurements and results of eye mapping with you in a safe place so that you can present them to your cataract surgeon. These documents will help them identify the correct power of lens that he'll need to implant into your high eye. 
If you didn't keep a copy, then you can reach out to your surgeon or to the clinics where you've had the treatment done. They will have it saved in an archive, and they will retrieve it for you without any fees.
Blotchy Eyes
Another logical result of laser eye surgery is having red blotches on the whites of your eyes. That is due to all of the trauma that your eye(s)have undergone throughout the surgery.
Nonetheless, it'll take its time and go away; there is no need to panic unless it remains for a long time, or becomes intensely painful to you.
Under/Over Correction
Some people have very high prescriptions, we're talking -10D, and we have said before that these significant prescriptions might not be the most excellent candidates for a laser eye surgery. 
Nevertheless, sometimes they do get approved for the surgery. In that case, studies have shown that around 5% of these patients might need a re-treatment. That's primarily due to under/over correction of their eyes.
What Is Eye Mapping (iDesign, Wavefront)?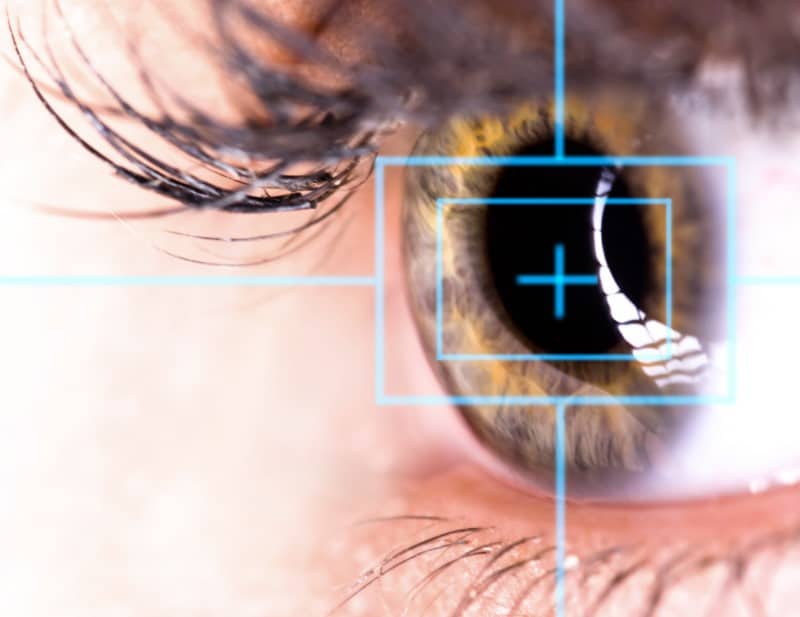 In a nutshell, eye mapping is usually offered free of any fees along with your normally free consultation at your surgeon's clinic before undergoing a laser eye surgery. It involves creating a 3-D map of your entire eye which determines how the surgeon will proceed.
It's known that some forms of eye mapping can improve the accuracy of the prescription with 25 folds. It also alerts the surgeon of any ocular health problems that you might unknowingly have and any abnormalities that might be present on the surface of your eye. 
Eye mapping can come in several forms according to the clinic where you're having your laser eye surgery done and the machines and technologies used. Hence, it might be introduced to you as iDesign or Wavefront.
Who's Eligible for Performing Lasek, Lasik, and SMILE?
Again, any laser eye surgery should be treated with as much care as possible. Hence, when you decide on a surgeon who will perform this treatment for you, you must follow the government's guidelines.
This means following the rules and guidelines placed by the Royal College of Ophthalmologists (RCOphth), which explicitly says that the surgeon must be registered with a specialist training before he can carry out laser eye surgery or eye mapping (iDesign, Wavefront).
Also, if you're in any doubt of what you should be asking your surgeon, then the Royal College of Ophthalmologists has crafted and provided a checklist that you can use to appease all of your worries.
Final Thoughts 
As you can see, there's a lot of information to know regarding your ocular health, the factors that must be taken into consideration when deciding on laser eye surgery, and the medication that might be needed before and after the surgery including eye drops, and maybe even antibiotics. 
Before you firmly decide on one of the types of laser eye surgery; whether you wish to correct astigmatism, short-sightedness, or long-sightedness, a free consultation, with Wavefront or iDesign included, will give you an excellent idea on how to proceed.
In the end, laser eye surgery cost can incredibly vary from one clinic to another, so you'll have the freedom of choice along with a lot of finance options for the treatment.