No matter what medicines you are taking yourself, even if it is herbal or low impact, you should always ensure that your doctor knows about it before you start taking naproxen. You should also check with your doctor about taking any new medications when you are already taking naproxen. This is because you need to ensure that the combination is safe, as not all of them are.
Today we will talk to you about naproxen, if you can take paracetamol with naproxen, what other painkillers you can take with naproxen, and what you really want to avoid taking with naproxen.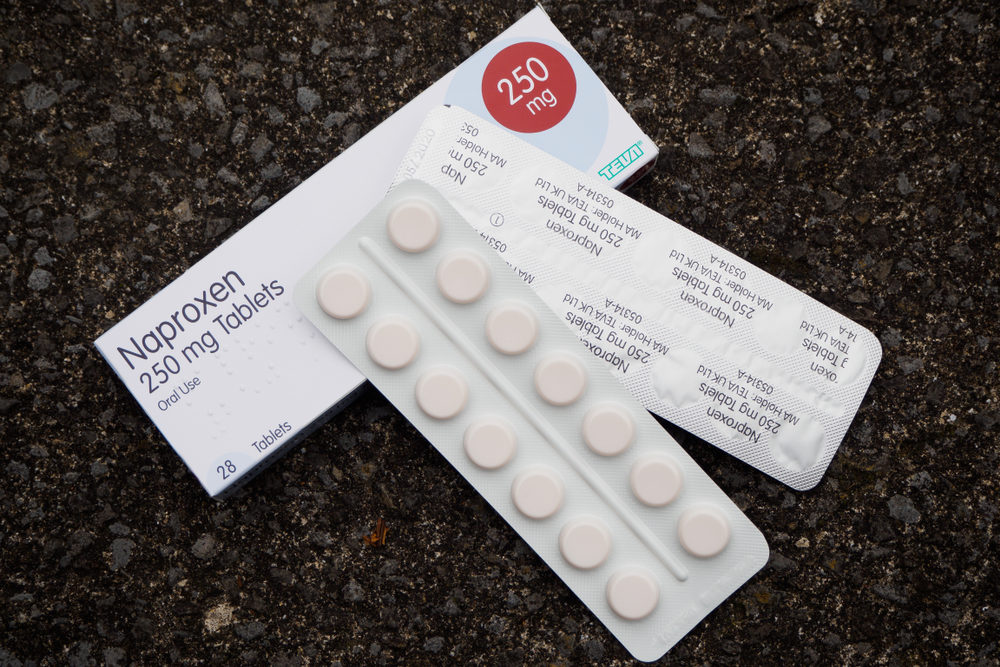 What is paracetamol?
Paracetamol is one of the most common painkillers used to treat aches and pains in the UK. It is also useable for treating other things such as a high temperature. It is often used in combinations with other painkillers, and anti-sickness medications, such as the all famous lem-sip.
Not only that, but it is used often in cold and flu remedies and is an easy to purchase painkiller. Furthermore, it is mainly recommended for adults, although there are children's versions, and paracetamol packaging will have dosage information when it comes to children.
What is naproxen?
Naproxen is a medicine that is used to reduce inflammation and pain in muscles and joints. It is often used to treat diseases of the joints; often rheumatoid arthritis, osteoarthritis, as well as gout.
It is also used for period pain (dismenorrhea- severe period pain.) It is also used for muscle and bone disorders including back pain, sprains and strains.
Furthermore, it is available as a prescription as tablets or as a liquid. You can buy it without a prescription from a pharmacy to combat period pains. It is only allowed to be taken by children when it is prescribed.
Can you take naproxen and paracetamol?
You can take paracetamol with naproxen. Both of these drugs are used to combat pain, however, naproxen will only work to reduce inflammation.
Paracetamol on the other hand does not have any anti-inflammatory properties and does not belong to the drug class of NSAID's. There do not seem to be any interactions between these two painkillers.
You can also take opioid-type painkillers with naproxen such as codeine, co-codamol, tramadol, or even morphine, with naproxen.
What painkillers can you take with naproxen?
You can take naproxen alongside other painkillers as long as they are not an NSAID class drug, such as ibuprofen. You can take naproxen with paracetamol, or co-codamol that you have bought over the counter, however if you do then you should only do so for a short period of time.
If you need to take extra painkillers with naproxen for any more than a few days, then you need to talk to your doctor or pharmacist. Taking different painkillers together and be a good way to relieve pain, however there are other treatments that you can try that may prove to be more effective.
That being said, it is okay to take other painkillers alongside naproxen for longer if your doctor has given them to you as a prescription and told you to take them together, or if your doctor is aware that you are on naproxen and has given you the prescription.
If you are ever unsure about what drugs you can take together, speak to your doctor first.
What should you NOT take with naproxen?
You should always avoid other NSAIDs, such as aspirin, ibuprofen and any other combination products that contain ibuprofen such a Nurofen plus, which has codeine and ibuprofen in it. These should not be taken together unless advised so by your doctor.
You should be aware of some medicines that may interfere with how naproxen works. Hence, it is wise to inform your doctor if you are taking any of the following medicines just in case.
Anti-inflammatory medicines, such as ibuprofen or aspirin.
Blood thinning medicines, such as warfarin, or rivaroxaban.
Steroid medications, such as prednisolone.
Medicines that make you urinate more, or more frequently, such a furosemide.
Any medicines that are used to treat any heart problems or high blood pressure.
Any antidepressants, such as citalopram.
Any medicines that are used to treat things such as rheumatoid arthritis, such as methotrexate.
You should always inform your doctor or pharmacist if you are taking any other medicines, even if they are herbal, vitamins or supplements.
Naproxen is also not usually recommended during pregnancy, especially after 30 weeks, or during your third trimester, unless it is prescribed by your doctor.
There can be some links between taking naproxen during pregnancy and some birth defects, particularly in damage to the baby's heart and blood vessels. There can also be a link between taking naproxen during early pregnancy and miscarriages, so if possible it is best to avoid taking it at this time.
You should talk to your doctor about this if you are pregnant or are looking to get pregnant and are taking naproxen, there may be alternative treatments that are safer for you.
Side Effects of Naproxen
Like any medicine, naproxen has side effects, these side effects are common and happen in more than 1 in 100 people.
These are:
Confusion.
Ringing in the ears.
Changes in vision.
Tiredness/ sleepiness.
Rashes.
Headaches.
Dizziness.
If these side effects start to bother you or do not go away contact your doctor.
There are also more serious side effects which you should act upon immediately if you develop them, these are very rare though. Contact your doctor straight away if you develop any of the following;
Any severe stomach issues; indigestion, heartburn, stomach pains, nausea, vomiting, diarrhoea.
Vomiting blood, or dark particles, defecating blood, black or tar-like faeces.
Frequent sore throat, nose bleeds, or infections.
Fainting, breathlessness, or chest pains.
High temperature, nausea, vomiting, confusion, headache, neck stiffness, or a sensitivity to light.
Urinating blood, or a decrease in urine passed.
Yellowing or skin or whites of eyes.
Irregular or slow heartbeat
Or a high temperature, stomach pain, and vomiting.
While it is unlikely that these will happen due to taking naproxen, it is good to keep an eye out in case of any complications.