When you're in a lot of pain, you might be wondering whether you can take two types of drugs to combat it.
Nurofen and paracetamol are common painkillers, but before you take them, it's important to understand the differences between paracetamol and Nurofen, which is a brand name for ibuprofen. Let's take a look…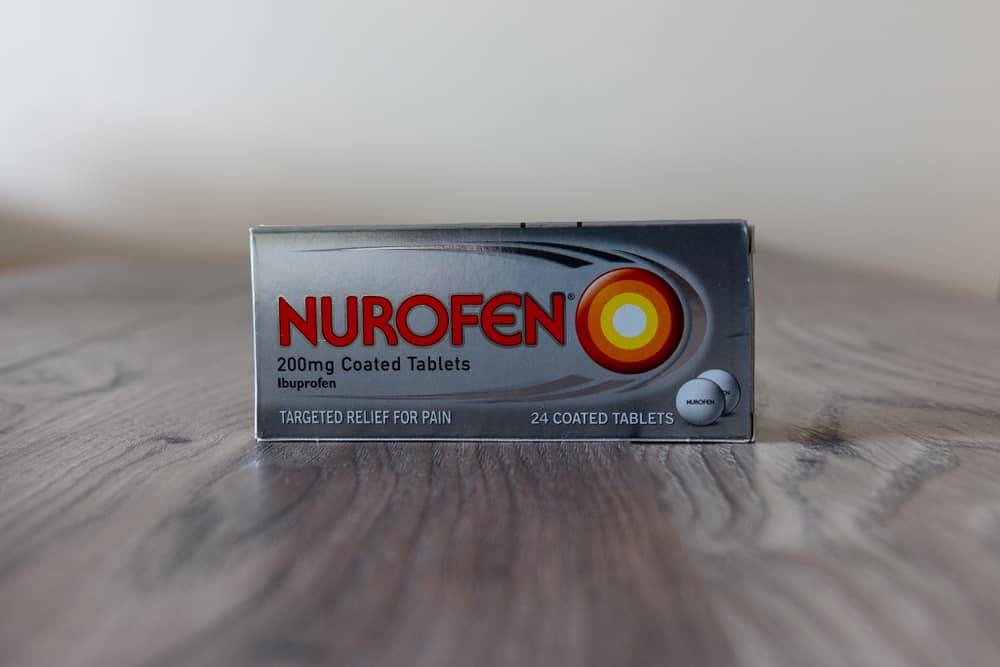 What is Nurofen?
Nurofen is a brand name for ibuprofen, which is a non-steroidal anti-inflammatory drug often referred to as an 'NSAID.' It's commonly taken to relieve mild to moderate pain, reduce signs of swelling, and control fever.
Ibuprofen works by blocking chemical messages in the brain that tell us we have pain, and therefore reducing the pain we feel. It also decreases swelling, so it can be good for treating a range of aches and pains, including back pain, period pain, toothache, as well as moderate injuries such as strains and sprains, or pain from arthritis.
What is paracetamol?
Paracetamol is commonly used to treat pain and reduce fever, and because side effects are very rare, it's safe for most people to take.
It's typically used to relieve mild or moderate pain, such as headaches, toothache, or strains and sprains, as well as reduce a high temperature caused by illnesses such as colds and flu.
Usually, it's recommended as one of the first treatments for pain.
Taking Both Together
Paracetamol and anti-inflammatory drugs such as Nurofen are two different things, so it's safe to take them together, either at the same time or spaced apart. Ibuprofen is best taken with food or on a full stomach.
You should always follow the instructions on the label or leaflet to ensure you do not exceed the recommended amount of each medicine.
Who Can Take Nurofen/Ibuprofen
Some people may not be able to take ibuprofen. The following people should avoid taking ibuprofen, including branded varieties such as Nurofen:
Those who are allergic (hypersensitive) to other NSAIDs
Those suffering from a stomach ulcer
Anyone suffering from heart failure
Liver disease patients
People with the following conditions may be able to take ibuprofen/Nurofen, but should be cautious, and should consult a doctor before taking any:
Those with kidney problems or liver problems
Systemic Lupus Erythematosus (SLE) patients
Those with ulcerative colitis
Asthma sufferers
Those with high blood pressure (hypertension)
Those who have previously suffered a stroke
If you're pregnant, you should of course consult your doctor before taking any medications, and paracetamol is generally a safer painkiller for most pregnant women.
You should avoid ibuprofen or Nurofen completely in the third trimester of your pregnancy, as it can affect your baby's heart.
Who Can Take Paracetamol
Paracetamol has few side effects and even these are rare. Most people can take it, though if you have liver or kidney problems you should consult your doctor first, as paracetamol is mainly broken down in the liver.
Many pregnant women take paracetamol as pain relief during pregnancy, and there is no evidence to suggest that paracetamol is harmful to take when you're pregnant.
It's also safe for breastfeeding mothers to take, though if you have any concerns, you should of course speak to your doctor.
You should also speak to your doctor if you're taking any other medications, as there are several drugs that may interact with paracetamol.
For example:
Carbamazepine – treatment for epilepsy and nerve pain
Warfarin – a blood thinner
Phenytoin – anti-epileptic medication
Metoclopramide – common treatment for heartburn, nausea, and vomiting
If the Pain Persists
If after 3 days of taking the recommended doses of paracetamol and Nurofen you're still experiencing pain, it's time to visit your doctor or pharmacist.
You may need a stronger drug, or your pain investigated further if your doctor doesn't know the underlying cause.
Is Nurofen stronger than paracetamol?
Like we say, Nurofen is simply a brand name for Ibuprofen. It's not necessarily stronger or weaker, as it works in a different way, even though it's used to treat similar kinds of pain.
Ibuprofen is a type of drug called a non-steroidal anti-inflammatory (NSAID), and it differs from paracetamol in that it reduces inflammation, as well as targets pain. Inflammation may be a result of an infection or could be the body's response to damage.
While the pain relief will usually kick in fairly quickly after taking Ibuprofen, the anti-inflammatory component can take weeks to have a noticeable effect.
Is Nurofen more effective than ibuprofen?
You might wonder whether a branded version of ibuprofen, such as Nurofen, is more effective than a non-branded variety, especially because these cost a few dollars more than the standard kind.
Overall, there's little difference, as the active ingredients are the same in standard ibuprofen products and Nurofen products.
However, some Nurofen products, for example, the 'fast acting' types, will do just that: act faster than your standard ibuprofen product, so you may feel the benefits sooner.
Nurofen's fast-acting tablets will dissolve around 10-20 minutes quicker than regular ibuprofen products, as they release their active ingredient at a faster rate, though the long-term effects will be pretty much the same.
Final Verdict
Nurofen is safe to take with paracetamol, as while these two drugs are used to target pain relief, the former is a non-steroidal anti-inflammatory (NSAID) and works differently from paracetamol.
That said, you should always be careful when taking the two together, as you should ensure you don't go over the recommended dosage for each, and that you don't take any other products that contain paracetamol or ibuprofen (Nurofen).
Similarly, if you're taking any other medications, you should always seek advice from your doctor or pharmacist to ensure there are no known interactions between the drugs, and even if you are not on medication, you should always read the leaflet carefully before taking paracetamol or Nurofen. You should also speak to your doctor first if you're pregnant.
It's fine to take the recommended doses of these drugs for a few days, but if you're still in pain after 3 days, you should see your doctor. Don't rely on these drugs as a long-term solution to your pain.