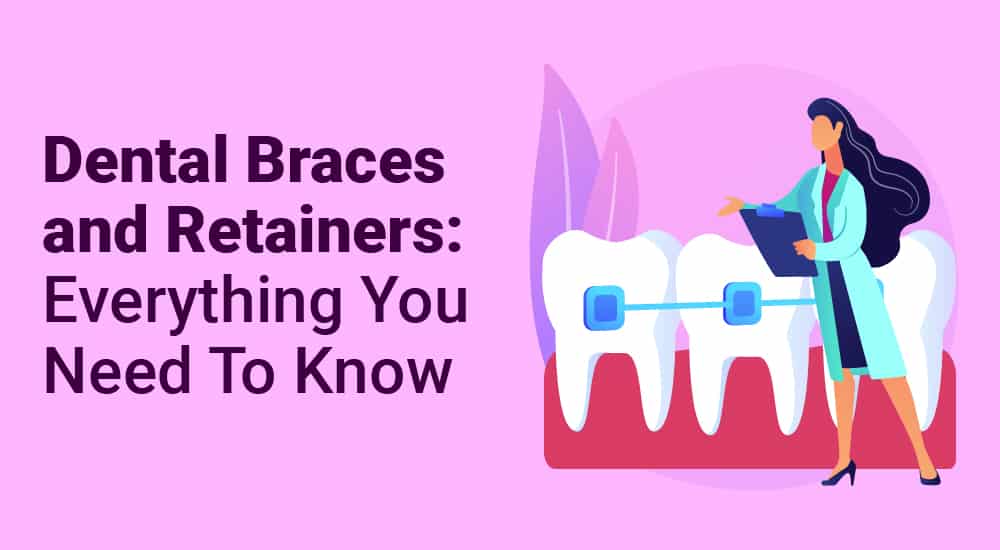 This article will explain in detail everything you need to know about dental braces and retainers: what they are, how they work, and how long you need to wear them.

4 million people are wearing braces (on average) every day in America. In some parts of the world, braces have even become fashionable. Despite the dental devices being so common, there is still a vast amount of misinformation out there about braces. Thanks to this kind of misinformation many people put off getting braces and prolonging their dental issues. 
The world of braces has changed beyond recognition in the last decade. The treatment was nearly exclusively taken up by children, could be incredibly painful, and was enormously expensive. These days the process is near painless and there are companies that will allow you to get dental treatments like retainers through the post. 
What are the most common misconceptions about braces? 
Well, many people believe that dental braces are incredibly painful, and hurt the majority of the time they are being worn. While this may have been the case 50+ years ago, technology has come a long way. You may be surprised to learn that most people don't experience any pain outside of having their braces installed. And many people find that process painless. 
Many people are under the impression that braces are just for children. This used to be the case because having the treatment as an adult would cost thousands of dollars. As the cost of the treatment has plummeted over the last decade, and the braces themselves have got a lot less invasive, adult braces are becoming increasingly popular. 
In this article, we are going to talk you through everything you need to know about dental braces, as well as the retainers that follow them. We will cover what they are, why you might need to wear them, and how they work. We will talk about the process of having them installed and removed. We will also talk about after-care and wearing retainers. 
What Are Dental Braces?

One of the sad facts about life is that we aren't all born with perfect teeth. While many of these issues are purely cosmetic, some are more serious. If you have a dental issue that is affecting your quality of life then your dentist may suggest getting braces. 
This suggestion can fill many people with a sense of dread. They may picture this process as being painful and intrusive. These fears usually stem from the depiction of braces in the media and decades old rumors that are no longer relevant to the treatment. 
Let's begin by discussing the basics: what are dental braces? 
Dental Braces are a tool used by orthodontists to correct problems with their patient's teeth. These problems can include teeth that are out of alignment, wonky teeth, or overcrowding in areas of the mouth. 
Traditionally braces are worn by teenagers and young adults. However, in recent years adult braces have grown in popularity. While braces are usually used to correct dental problems that affect their owner's quality of life, they can also be used to correct cosmetic problems. They are a highly effective tool for both these issues. 
The braces are attached to the teeth in a way that applies enough pressure to move them in the mouth. The teeth will be slowly straightened, realigned, or even sometimes moved to a less busy area of the mouth. 
For people with misaligned jaws (also known as over or underbites) dental braces can be used as a part of a larger series of treatments that realign the two jaws. The more extreme the misalignment the more invasive the treatment can be. 
If you feel you would benefit from braces then you should talk to your dentist. They will be able to do an initial assessment for you. If they agree with you then they will send you to see an Orthodontist. 
A dentist is a general practitioner who deals with all the uses relating to dental problems. Including realignment, cleaning, fillings, etc. Orthodontists are specialists in realigning and moving teeth. Any treatment done by dental braces will be overseen by an Orthodontist. 
During your initial consultation with your Orthodontist they will do the following things: 
Do a general check-up of your oral health 

Ask you about your general health, and your lifestyle 

Take a putty mold of your mouth 

Take a digital scan of your mouth 

Take x-rays of both your jaw and head 

Take photos of your face, neck, mouth, and head 

Look at your dental history 
After they have done all of this they will take some time to review their findings. With this information, they will be able to put together a treatment plan for you. At this point, you will be able to get a good idea of the cost and length of the treatment you will need to undergo. 
It is worth noting that while the majority of people need braces, others may require different treatment. If the issues are less serious than you or your dentist suspected then you may only need retainers. However, if things are most serious (more an issue with bone structure rather than teeth alignment) then you may need to have an operation before getting braces. 
Braces for children are usually covered by medical and dental insurance. However, it is less common for adult dental braces to be covered by insurance. Check with your provider before beginning any treatment you may not be able to afford. 
There isn't just a single type of dental brace available. The type of treatment that you need will dictate which type of brace you will have. 
Types Of Dental Braces
Let's take a look at the different types of dental braces. There are four main types of braces, each with its own unique use, benefits, and cons. Not all types of braces will be appropriate for everyone and they will all come at different costs. 
Traditional Braces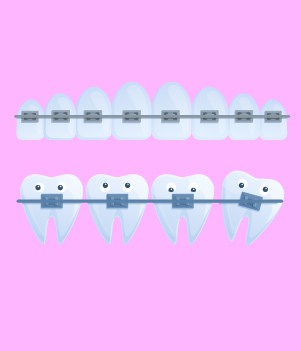 Also known as metal braces. Small brackets are glued or bonded to the front of your teeth. A wire is then strung between the brackets. These wires can be attached with rubber bands or with clips. The wire is strung to create pressure that will move your teeth. 
This is the strongest form of the dental brace. If your Orthodontist thinks your teeth require more pressure then they may suggest you wear a headset at night. This headgear will increase the pressure on your teeth whilst it is worn. They are worn at night so you can sleep through the most uncomfortable part of the process.  
Ceramic Braces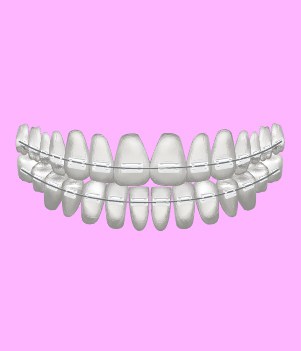 These are very similar to the traditional dental brace. However, there are two key differences between ceramic and metal braces. 
Firstly, as you can probably tell from the name, parts of the ceramic braces are made of ceramic. The brackets that are fitted to the front of your teeth use this material, as it is closer to the natural color of the tooth. Making it harder to notice. 
The second difference is that ceramic braces are not as strong as traditional braces. For this reason, they make a better option for adults than they do for children. If you play a lot of contact sports then you may want to avoid ceramic braces. 
These types of braces also use a wire to move the teeth around the mouth.  
Lingual Braces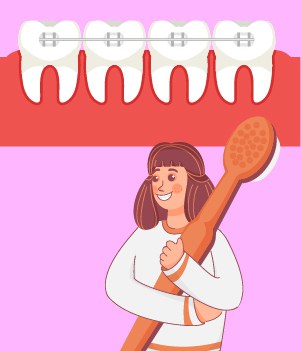 Lingual braces are a great option if you need braces but don't want to look like you're wearing braces. Lingual braces are attached to the back of the tooth. This can be a more expensive option as attaching the braces is more time consuming and requires a greater amount of skill to do correctly. 
If you're looking to close gaps between your teeth then you may want to look into Lingual Braces. They may be the fastest treatment for your problem. If you need more complicated work done then you may want to look into other options. 
Clear Aligners
(Y
ou might also hear them called invisible braces)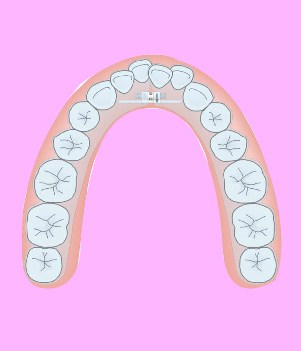 Aligners are quite different from braces, despite often being referred to as invisible or see-through braces. Where braces are made up of wires and brackets that are attached to your teeth, aligners are generally a mouth tray made from clear plastic. 
This clear tray is based on a model of the patient's teeth. The tray puts pressure on the teeth and pushes or pulls the teeth into the desired position. 
Many companies offer a Clear Aligner treatment through the post. So it is possible you may not have to attend any appointments at a dentist's office to receive this treatment. 
Which type is best for me? 
The best person to make this call is your Orthodontist. As they will have gone through this process many times and will understand what option is best for you. Many Orthodontists will be open to hearing your suggestions about what kind of treatment you would prefer, but ultimately the scale of work that needs to be done will dictate what kind of braces you end up with. 
How Do Braces Work?

Braces are not a quick solution to overcrowding or crooked teeth. However, they do offer relatively pain free and permanent results.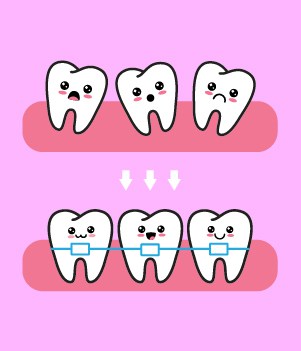 Put simply, braces create a small amount of pressure that slowly moves your teeth around your mouth. The way that the braces are tuned allows the Orthodontist to dictate the direction and speed at which the teeth are moved. 
A piece of wire (often referred to as the arch wire) is attached to the brackets on your teeth using ties. This wire is tuned or positioned by the Orthodontist to move the teeth. In some situations, multiple teeth can be moved at once. 
However, if lots of work needs to be done or if the job is more complicated than moving all the teeth in the same direction then the teeth may have to be moved one at a time. This process can add months, sometimes years onto the braces wearing period. 
Some people will find that they only need work done on one row of teeth. Therefore they will only have to wear one brace. Many people, however, have issues with both rows. 
If work is being done on both rows then the Orthodontist may use hooking bands. These bands are attached to both rows of teeth and help the patient to form a natural and aligned bite. This prevents the teeth from grinding against each other. 
Wearing braces for a long period of time can also change the bone structure of your mouth and jaw. 
Headgear is commonly used to pull the final molars (or sometimes wisdom teeth) away from the rest of the teeth. This is the most invasive form of dental braces. However, it creates more space in the most for the rest of the teeth. It is an incredibly useful technique when the patient struggles with overcrowding. 
Work on your braces will be very frequent. You have to have the arch wire adjusted every few months (if the teeth are moving well, if not, adjustments will be less frequent). This will be particularly frequent if you are having more complex treatment, or your teeth are having to be moved one at a time. 
Braces are made up of these things:
Here is a list of the different components that make up a dental brace 
The brackets  – are either attached to the tooth with dental glue or to Orthodontic bands (see below). They are the handles that the arch wire will be attached to. They can come in clear, tooth-colored, or metal. Metal is most commonly used. Brackets can also be attached to the back of your teeth to make the braces less obvious. 

Orthodontic bands – these are tooth-colored items that are glued (cemented) to your teeth. They wrap around the whole tooth. They are what the brackets are attached to. They act as an anchor and provide the brackets with stability. Not everyone needs bands, some people only require brackets. It is possible to also get clear colored bands or stainless steel bands.  

Spacers – these spread the teeth apart, creating gaps in between them. This creates space for the orthodontic bands. 

Arch wires – these are the heavy lifting part of the braces. They are attached using ties (see below) to the bracket. The position and tension levels of the arch wires guide the teeth into their new locations. It is possible to get clear or tooth colored arch wires. However, most of them are metal colored. 

Ties – these are small rubber rings that fasten the brackets and the arch wires together. They can come in clear or metal. Orthodontists often chose to buy them in colorful tones to allow their patients to customize their braces a little. 

A buccal tube – This is the tube that holds the braces together. It is installed on the arch wire of the back most four teeth. This prevents the wires from sliding out the braces and keeps the whole tool tight. 

Rubber bands – these are small, colorful rubber bands that hold the arch wires and the brackets together. Often called ligatures. 

Springs – these can be used to make larger changes to the position of the teeth without having to put excess pressure on the teeth themselves. Installation of springs can make the process less painful if there is a lot of movement that needs to be done. 

Elastic hook bands – these are slightly larger bands that are hooked onto the two rows of teeth. These bands will be set at different angles, their purpose is to line up the bite between the two rows of teeth. Not everyone will need these bands. 

Headgear (if necessary) – this equipment is usually only worn at night. This equipment only needs to be worn by people who are having their back most molars moved to create more space for other teeth. This is usually done when there are overcrowding issues. The headgear is made up of a facebow, strap, and two bands that attach the headgear to the teeth. 
How Long Will You Have to Wear Braces?

Like nearly every question about braces, there are many answers to this one. And it entirely depends on the type of work that you require. 
The average patient in the US wears their dental braces for between 1-3 years.
Here are some factors that may affect how long you are required to wear your dental braces for: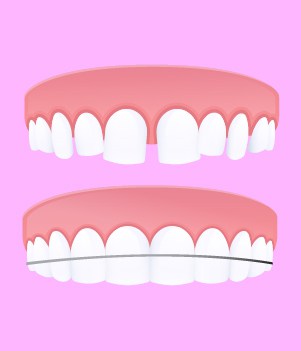 How sever your problem is 

How many problems you need treated 

How far your teeth have to travel 

How much room there is inside your mouth 

How healthy your mouth is – this includes teeth, gums, and the supporting bone

How carefully you follow your Orthodontist's instructions  
It is important to remember that any time you are quoted at the beginning of your treatment may not be accurate. Your Orthodontist can make an educated guess based on their previous experience. But they cannot guarantee how your teeth will react to the treatment. 
Some teeth respond well to the pressure and move quickly. Others are slow movers. Your Orthodontist will be able to give you a better idea of how long the process will take after your second or third adjustment. By that point, they will have been able to work out how fast your teeth have been moving. 
Will Braces Be Painful?

On the whole braces are a slow, methodical treatment for dental issues. Because the work is done over years rather than hours (like with other dental treatments) they are some of the least painful treatments available. From day to day you will barely notice that you are wearing your braces. 
There are three main points in the process where your dental braces might cause you pain.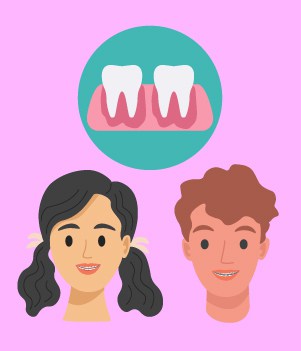 Firstly, they may cause you pain when you first have them installed. This will mainly be due to the fact that your mouth is not used to having braces inside it. The process of attaching braces can be very invasive and may leave parts of your mouth bruised afterward. You may also find that the wire frequently cuts your mouth over the first few weeks. 
You may feel pain in your teeth and jaw after having your braces adjusted. This will happen every few months (depending on the progress your teeth have made). The adjustment will be made to help keep the teeth moving in the right direction. Your teeth may feel the extra pressure for a few days after each adjustment, but they will quickly adapt. 
Finally, you may feel more soreness and discomfort after having your braces removed. Your most will take some time to get used to life without braces. Just like having your braces installed, having them removed can be an invasive process that can lead to small amounts of bruising and swelling.  
If you are someone who is susceptible to pain then you should talk to your Orthodontist about painkillers you can take to make the process easier for you to cope with. 
After Braces

When your Orthodontist is happy with the progress your teeth have made, they will book in for an appointment to have your braces removed.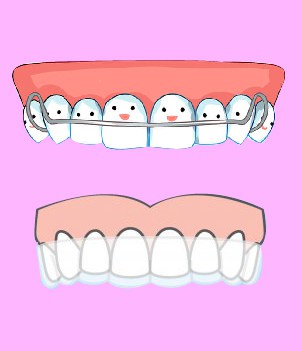 Your teeth will probably be quite tender after this appointment so it is best to have some soft or liquid food waiting for you at home. You should prepare for this treatment by thoroughly cleaning your teeth and braces before attending the appointment. 
When you arrive at your appointment your Orthodontist will take a look at your teeth and then talk you through the process you are about to go through. Every practice does this process slightly differently, but it is roughly the same across the country. 
This is a near painless process (unless there is some unforeseen complication, but your Orthodontist will talk you through this). They will start by removing the wire from your braces. Then they will remove everything else apart from the brackets. These two stages of the process are relatively quick. 
Removing the brackets is the most time consuming part of the process. The brackets will need to be removed one at a time. This may be an uncomfortable process, but it is rarely painful. 
Once the brackets have been removed your mouth will be given a deep clean. At this stage your Orthodontist will check your mouth to make sure you have developed any other dental issues while your braces have been on. 
The deep clean is generally ended with an application of fluoride to the teeth. This application takes around two hours to dry so you will not be able to eat or drink for that time. 
If the Orthodontist is worried that you will be in pain after having your braces removed then will prescribe you with some painkillers to take home with you. 
After they have removed your braces you will be asked to go back and see your Orthodontist again. During your check up with your Orthodontist they will do the following things (this process is very similar to your initial consultation) : 
Do a general check-up of your oral health 

Ask you about your general health, and your lifestyle 

Take a putty mold of your mouth 

Take a digital scan of your mouth 

Take x-rays of both your jaw and head 

Take photos of your face, neck, mouth, and head 

Look at your dental history 
After all this has been done your Orthodontist will sit you down and talk to you about the next stages of your treatment. 
This will look different for everybody, and will entirely depend on how well your teeth have taken to the treatment. 
The majority of people will need to wear retainers after having their braces removed. 
What Are Retainers?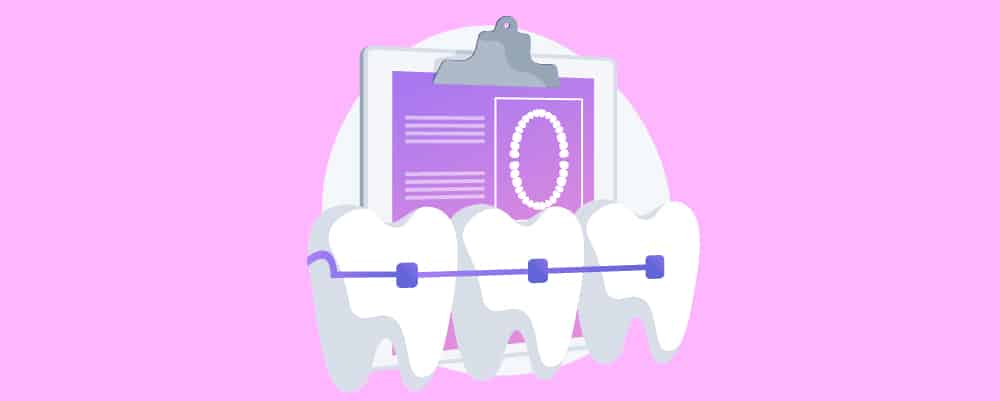 Sadly, having your braces removed isn't the end of the process. The majority of people will need to wear retainers for at least 6 months after having their braces removed. The good news is that this is a lot less of an invasive procedure and eventually the retainers will not need to be worn all the time. 
Why do we need to wear retainers? 
Well, even after years of wearing braces, our teeth have a tendency to migrate back to their original positions in the mouth. This could result in very little permanent change, even after very long periods of treatment. 
Retainers hold the teeth in place while allowing them to settle into their new positions naturally. They are not moving any of your teeth again, they are just preventing them from moving to an unwarned location. 
If done correctly your teeth will not move after your retainer wearing period is up. 
There Are Two General Kinds Of Retainers:
Fixed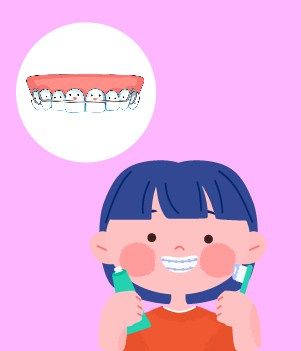 Fixed retainers are traditionally made from a braided wire that is glued to the teeth. The wire is molded to prevent the teeth from moving to new positions. 
Fixed retainers are a lot lower maintenance than removable braces. They are usually recommended for younger children or people who work unusual hours like nurses. They prevent the need to stick to a schedule. 
Stick to the same cleaning technique you used when you had your full braces on. Do not brush too hard and remember to floss regularly. Waterpiks are also extremely useful when wearing fixed retained. 
While Removable Retainers have been the most popular choice for many years, surveys have shown a recent popularity increase of getting fixed braces. 
Removable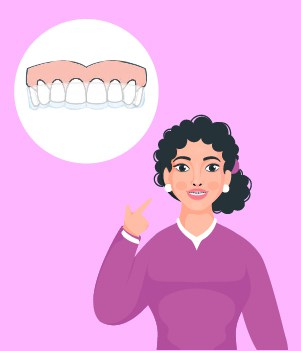 Removable retainers come in two forms: 
There are two different styles of removable retainers: 
Clear – 
Clear retainers are a plastic mould of the teeth. They cover the whole tooth and are made from a mold of your teeth right after the braces are removed. Because they are clear they are less noticeable. These are very popular with adults because of this, 
Acrylic – 
Acrylic retainers are made up of a bendable wire that holds the teeth in place and an acrylic plate that sits on the base or roof of the mouth. They come in many different styles and colors. These types of retainers are going out of fashion and are becoming rarer. 
Removable retainers are very popular as they provide a lot of freedom to the wearer. You are able to remove the retainer before eating and are therefore not limited in what you can eat. 
It should also be removed before cleaning the teeth. This way you can brush more enthusiastically and reach all areas of your mouth. 
You also do not have to go through the process of having removable retainers attached (unlike with fixed retainers), instead, they are made from a mold that takes under a minute to produce. Once the retainers have been made they will last you for years, unless they break. 
Retainer maintenance 
While wearing your retainers you will still be required to make regular trips to the dentist to have your teeth cleaned and to check for any signs of developing dental problems. 
The length of time that you have to wear your retainers will depend on the extent of the work you had done to your teeth. The more work that was done the longer you will have to wear your retainers for. 
Some people may have to wear their retainers for a few years. Others will only have to wear theirs for a few months. 
The process of getting braces can be very expensive and time consuming. Following your Orthodontist's instructions for wearing your retainer is the best way to keep your smile dazzling for the rest of your life. 
Caring for your teeth whilst wearing braces 
When you wear braces it is extremely important to take care of your teeth. You will need to take more care of them than you did before you had braces. 
It is easier for things to get stuck behind your braces and damage your teeth. Your braces also provide more places for bacteria to build up and eat away at your teeth.  
Here are our top tips for taking care of your teeth whilst you are wearing braces: 
 Invest in a water pick – a waterpik will help you to reach parts of your mouth, including your teeth, that brush can't. There may be times where you get bits of food stuck in your teeth or between your braces. Dislodging these items with a waterpik can prevent expensive dental work further down the line. 

 Your Orthodontist knows best – when you get your braces attached your Orthodontist will give you a lot of advice. Make note of it. This advice will include how often to brush and floss your teeth, what kind of food you should be avoiding, and other important details that will help you prevent any damage being caused to your braces. Try to follow this advice as closely as you can. 

 Follow your Orthodontist's schedule – following on from the point above, your Orthodontist will give you advice about when you should be scheduallying your appointments and cleaning sessions. Stick to this advice and try to book as many of your appointments in advance as possible. 

 Floss – if you don't already floss every day then it's time to start building that habit. Flossing is a great way to remove food that is stuck between your teeth. Regularly flossing will leave you with an overall cleaner mouth. It will also help you to reach parts of your mouth that your braces prevent your toothbrush from getting to. 

Pick your mouthwash carefully – not all mouthwash is braces friendly. Make sure to pick out a mouthwash that is high in fluoride and isn't dyed. If in doubt check with your Orthodontist or dentist which brand they recommend. This will help you to prevent getting unnecessary staining on your teeth and improve your overall oral health. 

 Pre-rinse – rinsing your mouth out with water before you start brushing will help you dislodge large pieces of food without brushing too hard (more on this later). Take a medium sip of water and swill it around your mouth for around thirty seconds. This will make the overall cleaning process a lot more efficient. 

 Your mirror is your best friend – teeth brushing is so habitual for most of us that we don't pay attention to what we are doing. This is a luxury you cannot afford when you have braces. Make the most of all the mirrors in your bathroom to check that you haven't missed any spots. This will prevent all long term plaque build-up and other forms of enamel damage. 

 Book yourself in for regular professional cleaning – no matter how long you spend cleaning your teeth, you won't be able to clean it as deeply as a professional. Every 4-6 months you should book yourself into a professional cleaning service. They will be able to gently deep clean your mouth. 

 Gentle brushing – it is essential that you brush your teeth gently when you wear braces. Brushing too hard can damage your teeth and the braces. It can even dislodge the brackets on your teeth. These can be expensive to have reattached. 

 Choose your toothbrush wisely – only use the type of toothbrush that your Orthodontist recommends, this will help you to avoid causing damage to your teeth and braces 

Avoid whitening toothpaste – whitening toothpaste can strip your teeth of their essential, protective layers. You want to keep these as strong as possible whilst you are wearing braces. For this reason, you should use a

fluoride heavy toothpaste.

 

Don't forget the brackets – makes sure that you brush over all of the braces when you are brushing your teeth. Many people avoid the brackets because they are worried about damaging them. However, behind the brackets is the perfect place for bacteria to build-up. Therefore they are some of the best places to cover when you brush your teeth. 

Avoid sticky foods at all costs – as tempting as they are, you should avoid sticky foods like caramel and taffy. They are prime offenders when it comes to managing and breaking braces. 
This seems like a very long list of rules, but within a few weeks of having your braces put on, they will become a part of your everyday routine. It is worth putting in the effort to ensure you have a dazzling smile at the end of the process. 
Are braces covered by insurance? 
The majority of dental treatment for children is covered by insurance. Any dental braces that are put on children and teens are done out of necessity rather than for cosmetic reasons. This makes insurance companies more likely to pay out for dental braces on children. 
This question gets more complicated when you are talking about getting treatment as an adult. As adult braces become more popular, more dental insurance companies are starting to cover braces. If you are in doubt, talk to your provider before signing on for any kind of treatment. 
Summary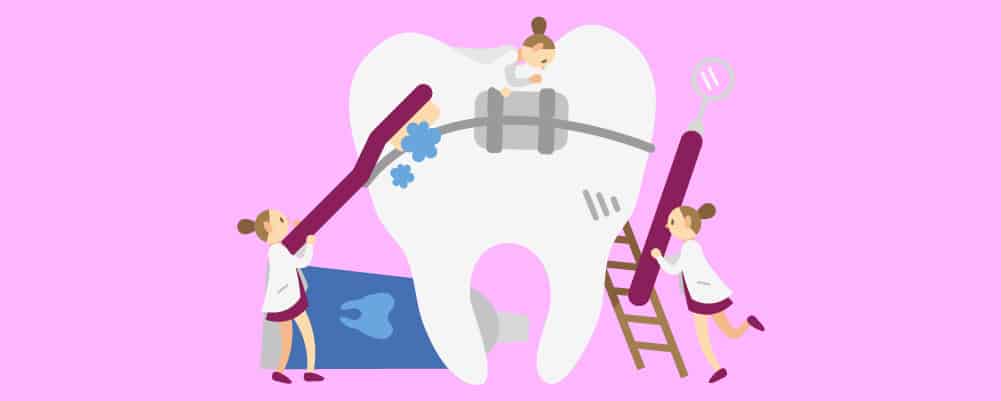 Dental braces are a tool that can be used to slowly move your teeth around your mouth. They can be used to treat overcrowding and crooked teeth. They can also be used to treat overbites. They are a slow but relatively painless option. 
There are four main types of dental braces. Each has its own benefits and downsides. They have been designed to treat different types and severities of dental issues. Your Orthodontist will consult you about the best type of dental brace for you before treatment begins. 
Once the braces have been installed you will have to go back for regular adjustments. The more complex the treatment the more adjustments you will need. Some people have to have their teeth moved one at a time and there more require a greater amount of adjustments. 
After you have had your braces removed you may be required to wear retainers. These will prevent your teeth returning to their original position. 
If you are unhappy with your smile then dental braces may be a great option for you. They are a nearly painless procedure that will leave you with an unforgettable smile. What are you waiting for, talk to your dentist about whether braces are a good fit for you!