Many factors can cause nosebleeds including picking your nose or blowing your nose too hard when you're feeling blocked up, an injury to the nose, or even sudden changes in the temperature or humidity levels of the air which can cause the inside of the nose to become dry and then crack causing bleeding.
However, one other factor that many forget, is that stress can cause frequent nosebleeds. If you're someone who's experiencing this and you're unsure of how to reduce the number of stress-induced nosebleeds then you're in the right place.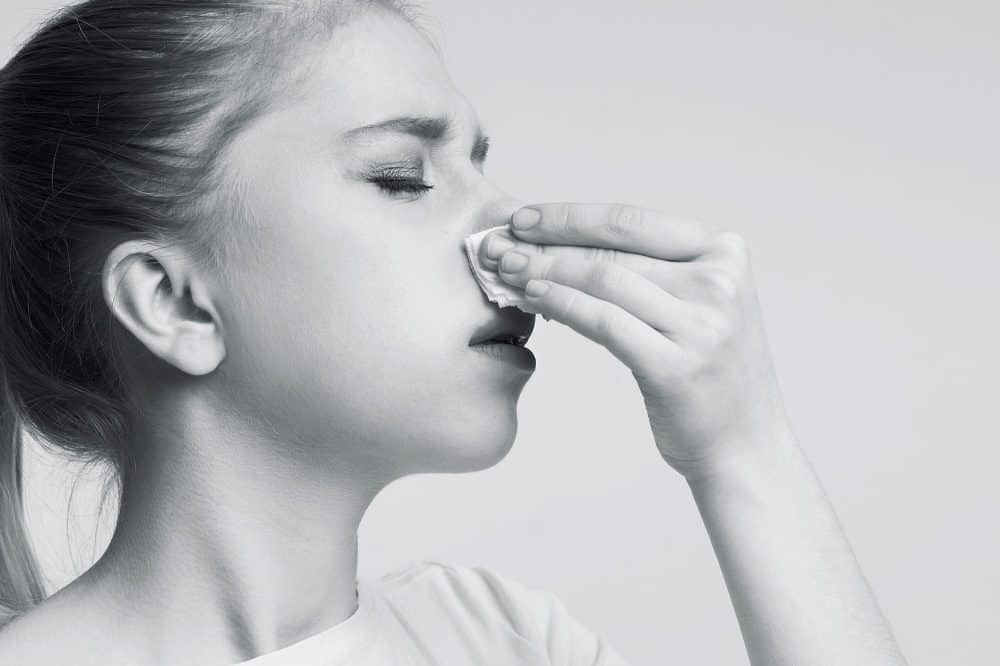 Stress Triggered Causes
Whilst the feeling of stress or anxiety may not directly cause nosebleeds, other stress-related causes can cause regular bleeding of the nose.
Headaches/Migraines – Those who suffer from migraines, which are often brought on by stress are often more prone to experience nosebleeds around or at the same time.
Picking your nose – If you're someone who picks their nose when they're stressed or anxious, then you'll be experiencing nosebleeds as you're scratching the lining of the inside of your nose with your nails.
Seasonal Allergies – Whilst allergies are not directly linked to stress or anxiety, stress can increase the levels of hormones like histamine in your body which leads to allergy symptoms. Therefore, you'll be more likely to be trying to blow or pick your stuffy nose if you suffer from hay fever and then be more prone to nosebleeds.
Pregnancy – As a result of the major hormonal changes that women experience during pregnancy and the 50% increase in blood volume in their body, they become more susceptible to nosebleeds.
High altitudes – The higher up you go, the less oxygen there is in the air resulting in dryer air which can lead to nosebleeds. This is indirect stress that you're putting on your body and is often common when you are hiking or flying on an airplane.
High-energy sports – If you're someone who plays high-energy sports or anything that majorly boosts your heart rate and increases the blood flow around your body then this can cause the blood vessels in your nose to burst sometimes. Whilst this increased heart rate is good for your cardiovascular health, it also is a signified that your body (mainly your heart) is under stress from working hard.
High blood pressure – If you suffer from high blood pressure caused by stress then this will make you more susceptible to experiencing nosebleeds
Injury – Injury or trauma to the body causes a lot of stress, especially if it is an injury to the nose or facial regions
Drug use – If you're using drugs via your nose to try and deter your stress levels, then this will lead to nosebleeds as they damage the skin and blood vessels inside your nose.
How to treat a stress-caused nosebleed?
As with any other nosebleed, treating a stress-related nosebleed will follow the same procedure.
Sit up straight and lean your head forward (leaning back will cause you to swallow the blood)
Using your fingers to pinch your nose shut and breathe in and out through your mouth. It may take around 10 minutes before the blood flow fully stops.
If you're aware that your nosebleed has been caused by stress, then you should focus on drawing out the length of each breath and acknowledging the rise and fall of your chest to relax.
Try to remove yourself from any loud or stressful environments and sit in a quiet area until your nosebleed has stopped. Once it's dried out, drink a big glass of water and avoid touching or knocking your nose for at least 24 hours.
What if my nose won't stop bleeding?
If your nose won't stop bleeding or if you're experiencing daily nosebleeds, then you should seek medical attention straight away. If you suffer from high blood pressure, blood conditions, or you're currently taking blood-thinning medication then you should seek advice from a medical professional.
Most common stress-related nosebleeds should stop within 10 minutes or so, however, stress that has been induced by trauma or injury may cause more complex problems within the nose that is resulting in excessive bleeding.
What other symptoms are caused by stress?
If you're uncertain whether your nosebleeds are directly related to stress or other factors, then there could be some other symptoms that you are experiencing that can pinpoint that stress is the underlying factor.
Hair loss – Some people who are struggling with stress can experience drastic hair loss, sometimes this can happen around a stressful period or even months after a stress-related event in their lives.
Acne – When the body is stressed it releases the stress hormone cortisol, which increases the risk of acne and other skin-related problems.
Sleeping problems – Tension in your body caused by stress can cause many people to experience sleeping problems or even insomnia.
Faster heartbeat – A common symptom associated with stress is a considerable increase in heart rate which can even cause chest pain. Those struggling to control the breathing and lower their heart rate may also experience panic attacks.
Digestive problems – Stress can slow down the digestive rate of your stomach and cause indigestion and bloating, or it can also increase your digestive rate and cause diarrhea or even irritable bowel syndrome.
Dizziness – When the body responds to stress, the brain releases hormones that narrow the blood vessels causing rapid and shallow breathing and resulting in the person feeling dizzy or lightheaded.
How to Reduce Your Stress Levels and Reduce the Risk of Nosebleeds
There are some simple changes that you can implement into your life to considerably reduce your stress levels. Here are some of our recommendations:
Exercise every day (even if it's just a 30-minute walk)
Reduce your daily caffeine intake
Spend quality time with good friends and family
Write down your stress-related problems
Stay hydrated throughout the day
Spend time outside in nature
Reduce your technology consumption
Make healthier alternatives in your diet
Watch or listen to something funny
Practice meditation or breathing exercises
Confide in someone about the stress you're experiencing