Believe it or not, if you are recently feeling more stressed than usual, you could develop a cough. Many doctors deem this cough as an anxiety cough.
Reading that, you may think to yourself that anxiety and stress are completely different. You are right there. If you feel stressed for a short amount of time, you are less likely to develop a cough.
However, if you experience stress over a long period of time, you could develop an anxiety disorder. To be sure, always discuss any health issues with your doctor.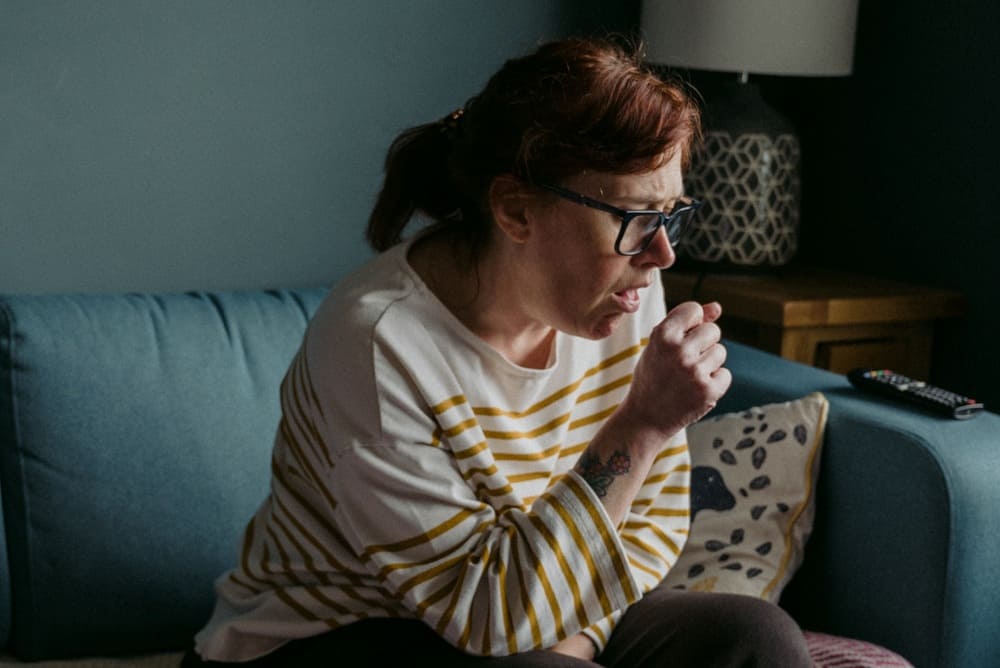 Stress Vs. Anxiety: What's the Difference?
To begin, we are going to define the differences between feeling stressed and having anxiety. We will also take a look at how these two are linked.
Stress is a reaction in the body that happens when you feel threatened in a certain situation. This could be finding out some bad news or feeling overworked at your job. What is important to note about stress is that it is a temporary feeling.
On the other hand, anxiety is the brain's reaction to the stressed-out feeling. Anxiety disorders are more likely to arise if the stress has been prolonged in your life. It is a serious mental health issue.
Feeling stressed for a short amount of time is a normal response to an uncomfortable circumstance. However, if you begin to feel stressed for a long period of time, you may want to discuss this with your doctor.
If you have an anxiety disorder, then you may develop an anxiety cough. This can be triggered by other stressful events in your life that increase your anxiety levels.
The Anxiety Cough
So, how do you tell if your cough is an anxiety cough or if it's something else? The anxiety cough feels like a tickling sensation at the back of your throat. You may cough in an attempt to clear your throat but it comes back shortly afterward.
Another way that you can tell if your cough is triggered by your stress or anxiety is to start logging your symptoms. Make note of when you have an anxious or stressful day and whether a cough follows.
Doing this simple logging exercise can help your doctors diagnose your symptoms properly. If you have health anxiety, you may begin to worry that your cough is a sign of something more serious.
If this is the case, it is important to contact your doctor for a full examination. This will put your mind at ease and also allow you to see exactly what the problem is.
What Causes an Anxiety Cough?
If you are feeling anxious or stressed, your muscles will automatically tense up. This includes the muscles in your throat. The swelling of your throat may trigger you to cough more frequently and could make you feel more stressed or anxious than you originally did.
Besides the tensing of your muscles, there are many other reasons why a stressful or anxiety-filled situation may trigger you to cough.
Quick, shallow breathing
This is one of the most common symptoms of anxiety. This type of breathing dries out your throat which leads to a cough developing. Later on, we will show you how to prevent this from happening.
Suppression of your immune system
You may not think this, but anxiety and stress do suppress your immune system. Due to this, your body feeds its energy to help you kick the anxiety or stressed-out feelings. Depending on how long your stress lasts, you may notice that you are more prone to colds and flu.
This means that your body may develop a cough more often than usual. Your immune system will begin to let bacteria and viruses enter your system. However, if you want to prevent this there are some coping mechanisms to take into consideration.
Vagus nerve overstimulation
If you haven't heard of this nerve before, then let us introduce you to the major nerve connecting your brain to your gut. If you begin to experience stress or anxiety, this nerve gets overstimulated.
This usually leads to a dry cough. This cough will stick around for as long as the stress does. You may feel that your throat gets quite raw so make sure to keep drinking plenty of water throughout the day.
How to Prevent or Treat an Anxiety Cough
Coughs brought on by stress and anxiety can be frustrating to deal with. That being said, you can prevent and treat coughs if they happen to hit you hard.
The things you can do to help prevent and treat an anxiety cough include some simple steps. These simple actions can make a huge difference, especially during a very stressful period of time.
Deep Breathing
This is a fantastic technique to use if you are ever in a stressful situation. This technique helps you to fully relax. To begin deep breathing, breathe in slowly through your nose for five seconds.
Next, hold your breath for two seconds. Then slowly breathe out through your mouth for a minimum of seven seconds. Repeat this technique for as long as you need.
This practice is a great way to relax and destress before bed. If you are someone who struggles to sleep, this can help you find calm and allow you to drift off peacefully.
Problem Solving
Usually, if you are feeling stressed it is because of a certain situation you have found yourself in. Realistically, you should only worry about things that you can change or affect.
One effective way to problem solve during a stressful situation is to write a list. Physically write down everything that you are worried or stressed about. This could be a list of five or one hundred things. It doesn't matter.
Once you have finished your list, it is time to reflect. What can you control? Highlight these things. Then make a list of what your priorities are when looking back at your highlighted points.
This technique will help guide you through any stressful events and bring back a sense of organization to your mind.