Ahh, Calpol. If you're from the UK, chances are you used to pretend to be a bit sicker than you were as a kid, just for an extra taste of this syrupy sweet medicine.
As grown-ups, we're stuck with boring old paracetamol tablets, which are nowhere near as fun OR delicious. You might be wondering: can I still take Calpol as an adult? Yes, you definitely can!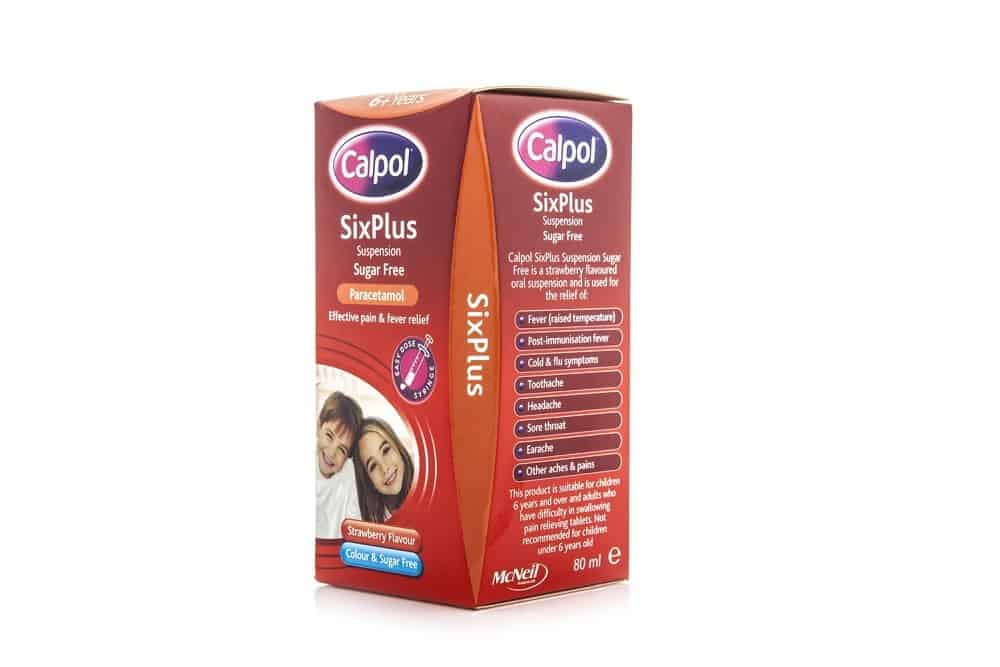 First things first, we're talking about Calpol Six Plus here – the Infant Suspension formula is nowhere near strong enough to tackle adult pain, and not recommended for your consumption, therefore.
Essentially, Calpol is paracetamol in liquid form. This is naturally a lot easier for kids to take, given its tasty flavour and ease of swallowing. However, not all adults are able to take tablets without feeling squeamish or choking. So… Calpol!
Given that it's "formulated with over twice the strength of infant paracetamol," you don't need to worry that it's not going to hit the spot. It also tastes way better, is a whole lot easier to swallow, and won't have any negative underlying stomach effects.
According to their official website, adults and children over the age of sixteen should be taking approximately 10-20 mls of Calpol at once, up to four times in one twenty four hour period. As with all medications, however, there are stipulations:
You must leave at least four hours between every dose
Do not take any other product containing paracetamol whilst also taking Calpol
Never exceed the recommended dosage or number of doses
Be sure to thoroughly shake up the bottle for at least ten seconds before consuming
Don't take Calpol for more than three days in a row without first consulting your GP or pharmacist
Disclaimer – in order to achieve the same amount of pain relief that you would get from an adult dosage of paracetamol (two tablets) you'd have to take approximately five teaspoons (equivalent to 1000mg of paracetamol) of Calpol to feel the effects. That's a lot of sickly sweet sugary liquid! You might be better off accessing something stronger if you're in a lot of pain.
What is Calpol made of?
Calpol Six Plus Oral Suspension contains the following ingredients:
Paracetamol (250mg per 5ml); sucrose (2.1g per 5ml); sorbitol liquid (1.895g per 5ml); propylene glycol (E1520); methyl parahydroxubenzoate (E218) and sunset yellow FCF (E110)
What drugs interact with Calpol?
According to medicines.org.uk, there are several interactions with medicines to consider:
The body's metabolisation of paracetamol tends to be sped up by the following ingredients: carbamazepine, fosphenytoin, phenytoin, phenobarbital and primidone.
The speed at which we absorb paracetamol might be increased by metoclopramide or domperidone, or reduced by cholestyramine.
Warfarin and other blood thinners may have their anti-coagulant properties reduced if you regularly take paracetamol: you also open yourself up to further risk of bleeding, but an occasional dose won't have any adverse effects.
Finally, if you're struggling with chronic alcoholism, it could increase the natural toxicity of overdosing on paracetamol, diminishing your ability to metabolise it in large doses and potentially putting you at risk of death.
What will Calpol work for?
According to its packaging, Calpol SixPlus is good for easing a variety of aches and pains, as well as bringing down a fever. Reasons to take a dose (or give a dose to your child!) might include:
Toothache
Earache
Headache
Sore throats
General soreness
Cold and flu symptoms
Post-vaccination/immunisation fever
Can I take Calpol whilst pregnant?
You can, yes, but with a caveat. If you're in pain, you can take paracetamol whilst pregnant, and Calpol is essentially liquid paracetamol, so you're all good. HOWEVER, you should use the lowest effective dose and only consume it for the shortest length of time with as little frequency as possible.
Breastfeeding mothers are also more than fine to take Calpol if they desire. Paracetamol is transferred via the breast milk, but not enough to be clinically significant or worth worrying about, so don't worry about the safety of your baby in all of this.
Is Calpol vegan?
Yes! The UK's official Vegan Society state that each of these Calpol medicines are suitable for consumption by vegans:
Calpol Six Plus Fast Melts
Calpol Six Plus Sugar Free Suspension
Calpol Sugar Free Colour Free Oral Suspension
Calpol Six Plus Suspension
Calpol Infant Suspension
Is Calpol gluten free?
It is! Following Coeliac UK's guidelines, which stipulate that if medicines are free of wheat starch, they can be considered gluten-free, then Calpol is 100% safe to consume for those who need to stick to a diet free of wheat.
Does Calpol have any side effects?
As with any medication, there is a list of potential side effects from taking Calpol, though these are only provided as a precaution and nothing to get especially worried about.
Drugs.com provides a handy summary of side-effects that require you to immediately contact your doctor if they present. These are:
Bloody or black, tarry stools
Bloody or cloudy urine
Fever with or without chills (not present before treatment and not caused by the condition being treated)
Pain in the lower back and/or side (severe and/or sharp)
Pinpoint red spots on the skin
Skin rash, hives, or itching
Sore throat (not present before treatment and not caused by the condition being treated)
Sores, ulcers, or white spots on the lips or in the mouth
A sudden decrease in the amount of urine
Unusual bleeding or bruising
Unusual tiredness or weakness
Yellow eyes or skin
Emergency treatment should be sought immediately if you believe you've taken an overdose of Calpol, symptoms of which include: diarrhea, increased sweating, a distinct loss of appetite, vomiting or general nausea, continued stomach cramps or pain, and any prolonged swelling, pain, or tenderness in your upper abdomen or stomach.
Again, the above information is only being provided as a guide, and if you're worried about anything, it's always best to get in touch with your doctor or (in the UK) call 111 to speak to an NHS professional.