Stannah was founded in London back in 1867 as a lift expert and expanded their products to supply stairlifts, becoming the UK's leading independent supplier of lift products. Their most popular product is the Siena stairlift, which is custom made to fit both straight and curved rails.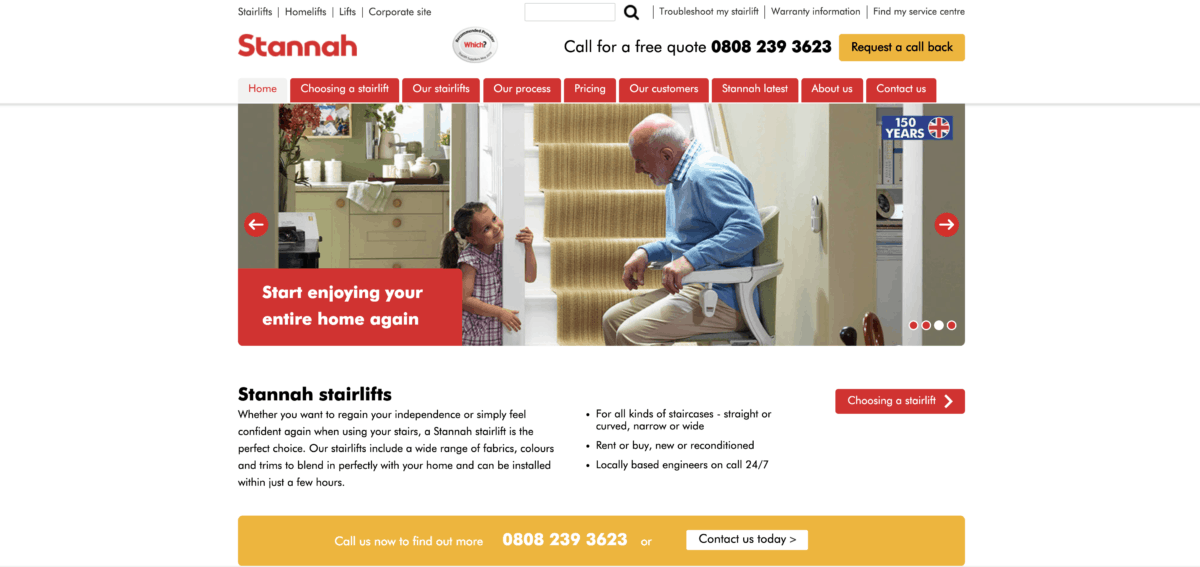 Main Products
Starla
The Starla stairlift is the most customisable option from Stannah and can be fitted to straight, bespoke curved and modular curved rails. There is choice of seat fabrics and options include slimline and foldaway chair. Stannah describe this product as their mosy elegant design, with upholstered option and a choice between dark or light wood trim.
Siena
Siena, the best selling Stannah stairlift can be fitted to straight, modular curved or bespoke curved rails. Another feature that make them so popular is their range of five classic colours to select from. Safety is paramount in the design, with seat belt as standard and sensors that stop the chair from moving if an obstacle is detected.
Sadler
The Sadler model has a very different design to standard stairlifts, as it provides a saddle type seat rather than a flat chair. It has been developed for people with limited flexibility, helping them to maintain a more upright posture. It is available in two different heights to suit people with different heights.
Stannah Reviews
Trust Pilot Reviews
On Trustpilot.com Stannah is rated as Great overall, claiming 4/5 stars.
Customer comments include:
First class service,very professional. Quality product.
I would not hesitate to recommend Stannah Stairlifts.
Excellent company to deal with from start to finish.
Very expensive compared to many local suppliers.
It has changed my life, money well spent.
Consumeraffairs.com Reviews
The reviews on consumeraffairs.com are also on the whole, very positive. Scoring 4.5/5 stars in overall satisfaction, the comments include:
 It's quiet, it works, it's safe, and it looks good and sturdy.
I'm glad that you could buy a used stairlift, which is a lot cheaper than buying a new one.
I like that it's family-run, it's been around a long time, and they had a good warranty.
It's wonderful, excellent, and it changed our lives.
Pros
Wide range of design options
Battery operated
Ergonomic seat for people with limited flexibility
Second-hand products available
Strong brand reputation
Cons
Some customers describe as slow moving
New models quite expensive
Repair costs can be high
If you want to read more about Stannah stairlifts and their features, visit their website – https://www.stannahstairlifts.co.uk/