Signia is a leading hearing aid manufacturer that is part of the highly reputable Siemens Group. Having launched the world's first acoustic-motion sensors, their sound processing is highly advanced and their Xperience hearing aids are very popular.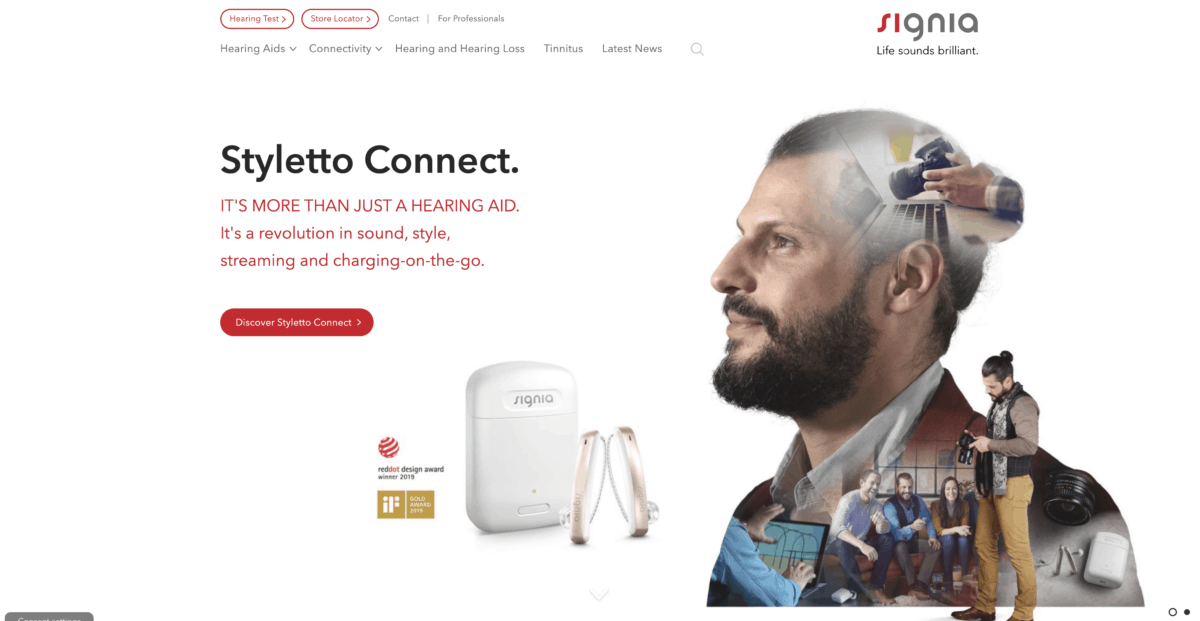 | Product | Specsavers Price | hearingaid.org.uk Price |
| --- | --- | --- |
| 3 NX | £1,995 per pair | £1,195 per aid, or £1,995 per pair |
| 5 NX | £2,395 per pair | £1,395 per aid, or £2,395 per pair |
| 7 NX | £2,695 per pair | £1,695 per aid, or £2,695 per pair |
Please note prices were accurate at the time of writing (October 2019) but may have changed. Source: Specsavers, and Hearingaid.org.uk.
Main products:
Styletto
Signia's latest hearing aid design is all about style and they claim to offer the world's first slim receiver-in-the-canal hearing aid with the Styletto. Geared around people with mild to moderate hearing loss, the Styletto allows direct streaming from smartphones and other devices. The Own Voice Processing clears up a lot of the standard issues that hearing aid users have experienced where their own voice sounding too loud.
Motion Charge and Go NX
As well as providing the Own Voice Processing for a more natural sounding voice, the Motion Charge and Go NX is wirelessly rechargeable. The design of this model is more durability-orientated compared to the thinner Styletto. The Motion Charge and Go NX is suitable for a wide range of hearing loss (mild to severe).
Insio NX 3/5/7
The Insio NX range has three technology levels with 7 being the most advanced. These are all in-ear products and the key differences in performance of each model are in sound clarity, speech quality and 3D classifier. All three models can be directly connected to Apple devices.
Signia Reviews
Consumeraffairs.com Reviews
Based on 14 ratings on Consumeraffairs.com they score an overall score of 2.25/5 stars. There were some concerns about connectivity and a number of customers complained about the value for money. Comments included:
They never helped my problem as they only magnified the noises around me and not conversations.
Twice they failed by suddenly producing static.
My pair of Signia devices loses connection when in a noisy environment, like in a restaurant.
Really not happy with such expensive equipment.
Forum.hearingtracker.com Reviews
On Forum.hearingtracker.com there were more negatives than positives for Signia, with discussions including:
 I am having problems with the myHearing app
I go into meetings and I struggle to hear what is being said so I crank the volume up.
After an adjustment everything sounds like tinny AM radio and I'm getting really frustrated. 
Although I can do better in conversations I'm not happy with the sound.
Pros
Acoustic-motion sensors
Large product selection (designs, colours and sizes)
Good options for children with hearing loss and tinnitus
Connects to smartphone
Cons
More expensive than many other hearing aids
Customers reported regular repairs were required
Bluetooth connectivity is not very reliable
Amplification of background noise
Visit the Signia website to find out more about the different options available.