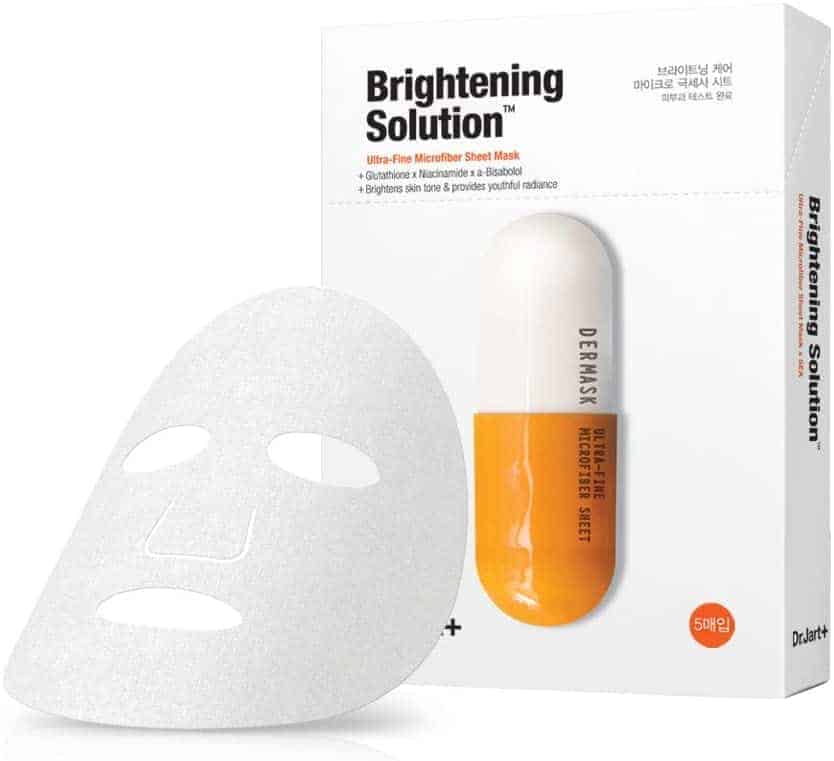 Whether you want to treat yourself to an at home spa day or you need a glow up before an important event, sheet masks are a quick and easy way of pampering your face with beneficial ingredients. This K-beauty skin care trend dazzled the whole world and with every major beauty brand brandishing their own version of sheet masks there is a wealth of options to choose from. We carefully picked the best sheet masks suitable for every skin type and budget that will make your face plumper and smoother. 
In addition to our favourite sheet mask recommendations, we have included a buying guide and an FAQ section that will help you pick the best sheet mask for your skin care needs.
So, let's meet the sheet masks that will boost your glow.
Sheet Mask
Brand
Price
Targeting
Best For
Dr. Jart Dermask Micro Jet Brightening Solution x 5
Dr. Jart
£14.00
Dull looking skin and dark spots
Best Brightening
Mamonde Flower Lab Essence x 5
Mamonde
£18.98
Dehydration
Best Moisturizing
No7 Protect & Perfect Intense Advanced serum Boost x 4
No7
£16.00
Aging
Best to Plump Mature Skin
SK II Pitera Facial Treatment Mask X 6
SK II
£79.95
Dull skin, Dehydration
Best Spa Treatment Replacement
Charlotte Tilbury Instant Magic Facial Dry Sheet Mask x 1
Charlotte Tilbury
£19.97
Dull skin, Dehydration, Aging lines
Best Before Red Carpet (or any special day)
Simple Ultra Calming Sheet Mask
Simple
£2.12
Irritated & Dehydrated Skin
Best Budget Choice for Skin Recovery
Kose Clear Turn Essence Facial Mask White x 30
Kose Clear
£11.97
Dull skin, hyperpigmentation
Best Budget Choice for Brightening
Mediheal N.M.F Aquaring Ampoule Mask x 10
Mediheal
£23.00
Dehydration
Best Budget Choice for Hydrating
Lululun Face Mask Precious - Green x 32
Lululun
£45.99
dry/combination mature skin
Best Budget Choice for Anti-aging
Tatcha
Luminous Dewy Skin Sheet Mask
Tatcha
12
Dry and Dull Skin
Best Glow Up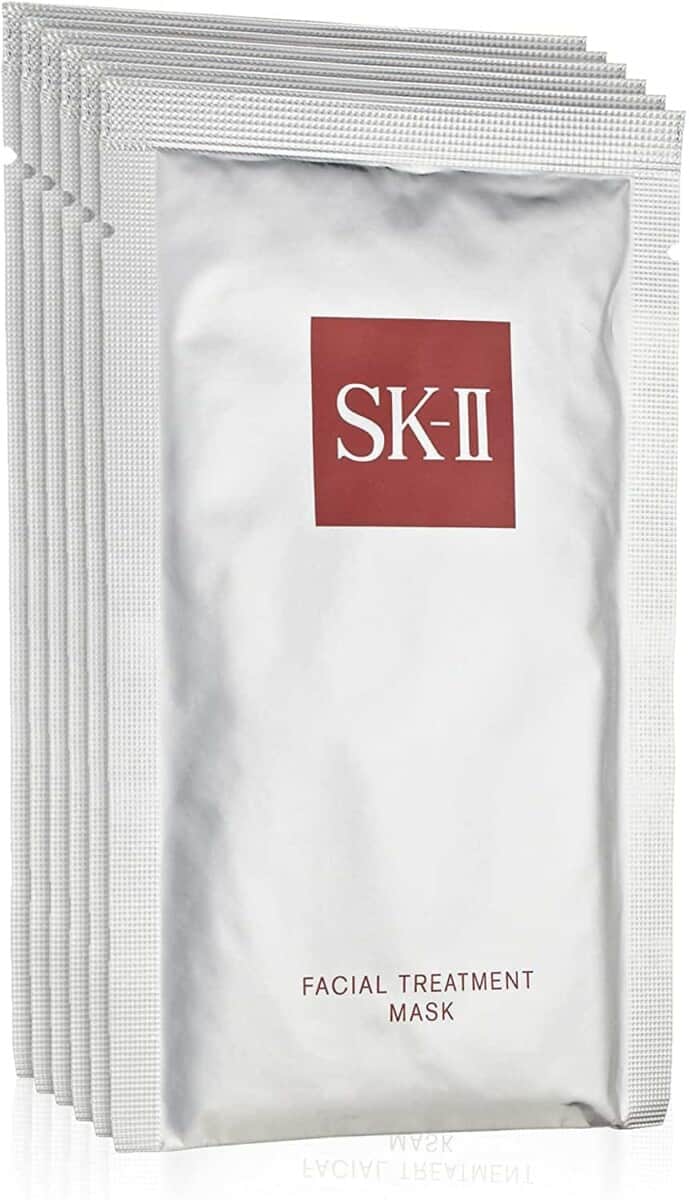 If there is a holy grail of sheet masks it is the iconic SK II Pitera Facial Treatment Mask. It has consistently received praise from both consumers and beauty experts since its first release and managed to remain on top throughout the years despite the stiff competition.
Pros
Moisturizing

Anti-aging

Evening and brightening skin tone
SK II Pitera Facial Treatment Mask has a pretty unique formula that combines vitamins, amino acids, minerals, and fermented yeast. Yes, fermented yeast! Apparently this is the secret to its extraordinary prowess when it comes to moisturizing and softening even the most dehydrated, hardened skin. 
The combination of the well-known acne-fighting ingredient Salicylic Acid and the oil-free texture of the formula makes this mask great for treating blemishes as well. 
Salicylic Acid provides lightweight chemical exfoliation for the skin which will especially help with hyperpigmentation.
A pack of SK II Pitera Facial Treatment Mask includes 6 masks. Apply once or twice a week or simply use when your skin feels like it needs a reset button. 
Cons
Unfortunately, SK II Pitera Facial Treatment Mask is one of the pricier sheet masks on our list. It is sold in packs of six for around £80 which means that the cost of a single mask is almost £14.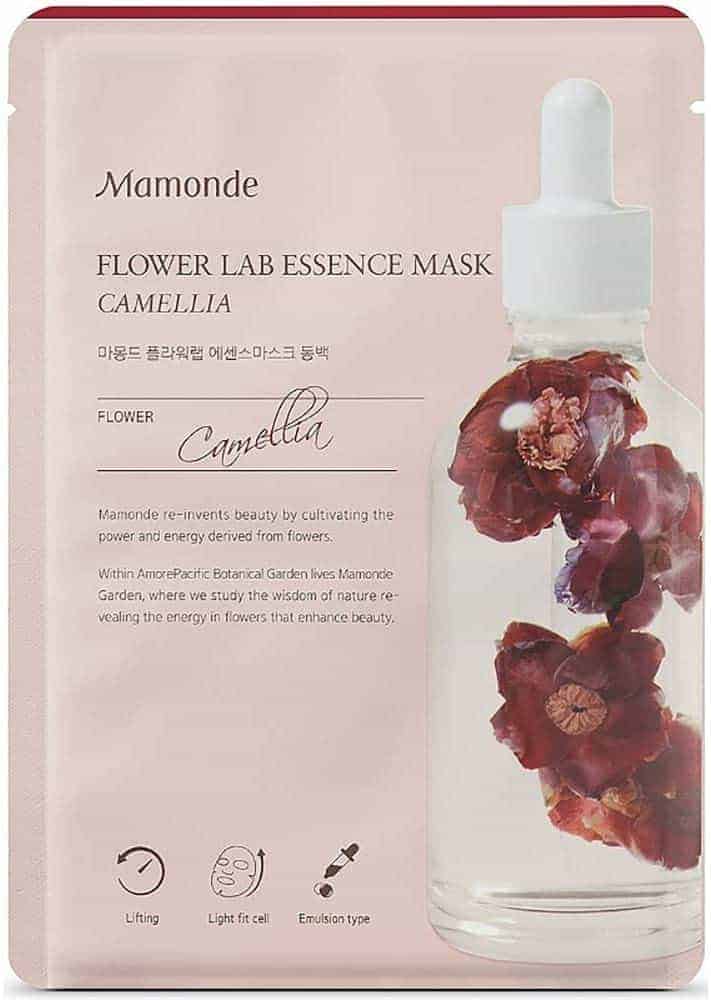 Mamonde Flower Lab Essence Camelia won the Allure 2019 Best of Beauty Award and continues to be one of the best moisturizing masks on the market. It is infused with hyaluronic acid and glycerin which make this mask a force to be reckoned with when it comes to moisturizing parched skin.
Pros
Moisturizing

Anti-aging

Smoothing
The sheet of the mask is made from eucalyptus pulp which enhances the mask's benefits while making sure it stays on your face.
As the name suggests, the mask also contains camellia extract which is an anti-aging agent. Rich in nutritious fatty acids, camellia extract helps to lessen the appearance of wrinkles.
Another perk is that the formula is clear of any essential oils, mineral oil, parabens and sulfates.
Hyaluronic acid is a first class skin hydrating ingredient that has become the staple of any moisturizer that is worth its shiny package. Adding glycerin on top of that gives this mask an emollient quality which softens and smooths the face.
Whereas most sheet masks create strong effects that fade overnight, fans of the mask report that its effects remain visible until the next day.
Cons
Mamonde Flower Lab Essence Camelia gives off a strong flower smell. If you dislike perfumed products or strong fragrances this sheet mask is probably not for you.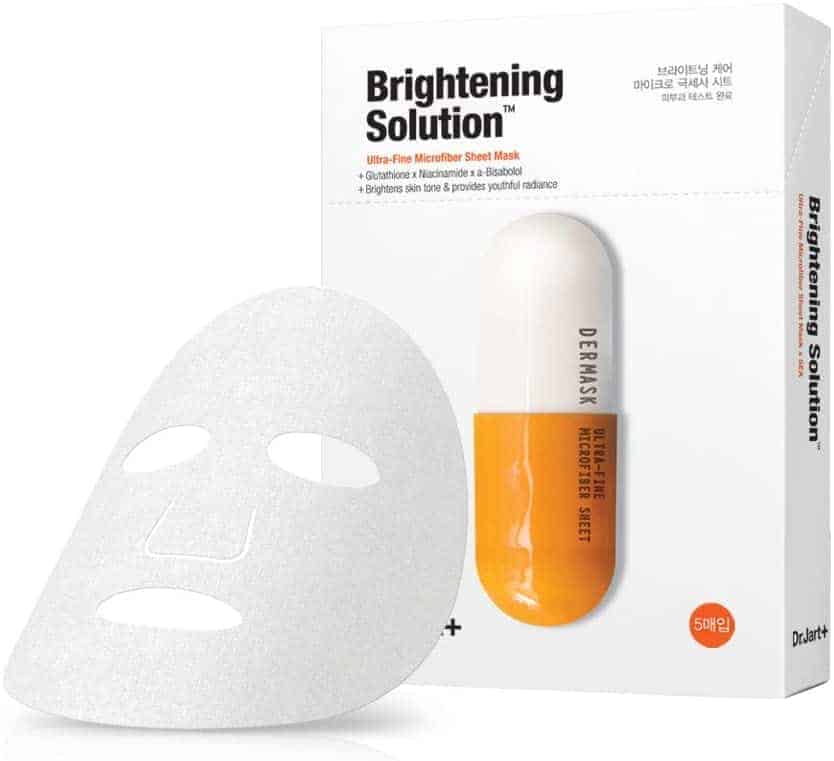 If you want to look in the mirror and see glowing radiant skin, this is the mask that will put a bright smile on your face. Dr. Jart Dermask Micro Jet Brightening Solution contains a wealth of skin brightening ingredients that will help to minimize the visibility of blemishes and imperfections on your face while giving your skin a boost of brightness.
Pros
Brightening

Fighting hyperpigmentation

Fighting acne and blemishes
The sheet of the Dr. Jart Dermask Micro Jet Brightening Solution Mask has a thin, silky texture. It is made from very fine microfiber strands that increase the effectiveness of the ingredients thanks to their consistent and thorough delivery property.
Every inch of this fine microfiber is positively drenched in active ingredients. The formula includes the formidable antioxidant glutathione as well as niacinamide and a-bisabolol, a great combination that creates youthful radiance.
Niacinamide can reduce inflammation and ease the redness that is due to skin inflammation. A-bisabolol has antioxidant properties and it can improve the visible signs of aging. Glutathione is great for treating hyperpigmentation left from acne scars and other discolourations.
Dr. Jart Dermask Micro Jet Brightening Solution doesn't contain any parabens, sulfates, phthalates, artificial fragrance,  mineral oil or denatured alcohol which can cause skin irritation. It is hypoallergenic.
Cons
While Dr. Jart Dermask Micro Jet Brightening Solution is hypoallergenic, the amount of active ingredients could be too much for people with very sensitive skin.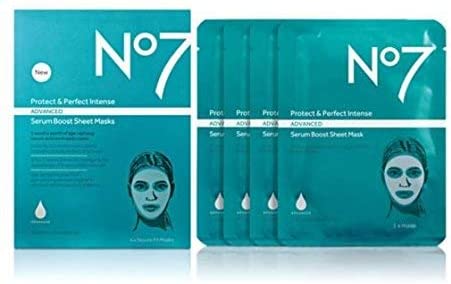 Sometimes it may feel like the skincare industry is disproportionately focused on young people and delaying the signs of aging, while neglecting those who are older and looking to endow themselves with some brightness. No worries, because No7 Protect & Perfect Intense Advanced Serum Boost mask is perfect for anyone with mature skin. In fact, this is the only sheet mask to get a five-star review from the research based skin care review site Beautypedia.
Pros
Anti-wrinkle

Moisturizing

Skin replenishing
This mask has a very solid ingredients list which includes the No7 Brand's very own anti-wrinkle peptide, Matrixyl 3000 which has great skin-replenishing properties.
The formula includes Vitamin A and Vitamin C which are great for skin cell regeneration and collagen production. Combined with moisturizing and plumping hyaluronic acid, this formula is great for anyone who wants to give their skin a real boost.
Thanks to Vitamin B and glycerin it can also soothe sensitive skin and diminish dark spots. Reviewers also praise it for shrinking pores and keeping acne breakouts at bay.
The sheet comes with hooks as well which you can put over your ears to make sure the mask doesn't slip from your face.
Cons
No7 Protect & Perfect Intense Advanced Serum Boost Mask is claimed to be delivering 1 weeks worth of anti-wrinkle peptides to your skin. This is likely a stretch, considering sheet masks are usually effective for short periods of time.

Mediheal N.M.F Aquaring Ampoule Mask is the signature hydration mask that made Mediheal one of the biggest names in the K-beauty industry. It is our best budget choice because it is cheaper than some other masks on the list but this mask is really top notch when it comes to hydration.
Pros
Intense hydration

Calming redness

Soothing skin
Hyaluronic Acid and Ceramides in Mediheal N.M.F Aquaring Ampoule Mask increase your skin's ability to retain moisture. 
Witch Hazel, an ingredient that could potentially be irritating on skin if used in greater amounts, is perfectly portioned to gently shrink your pores.
Along with its intense hydration powers, this mask receives very high praise for diminishing redness almost instantly.
The sheet is made from all natural cotton fibres -it is very soft and suitable to sensitive skin.
Finally, this mask is truly packed with serum. After you apply the sheet mask you can apply the leftover serum in the packet to your neck and body. 
Cons
Because it is drenched with ultra hydrating serum, this mask takes a bit longer than other masks to fully dry.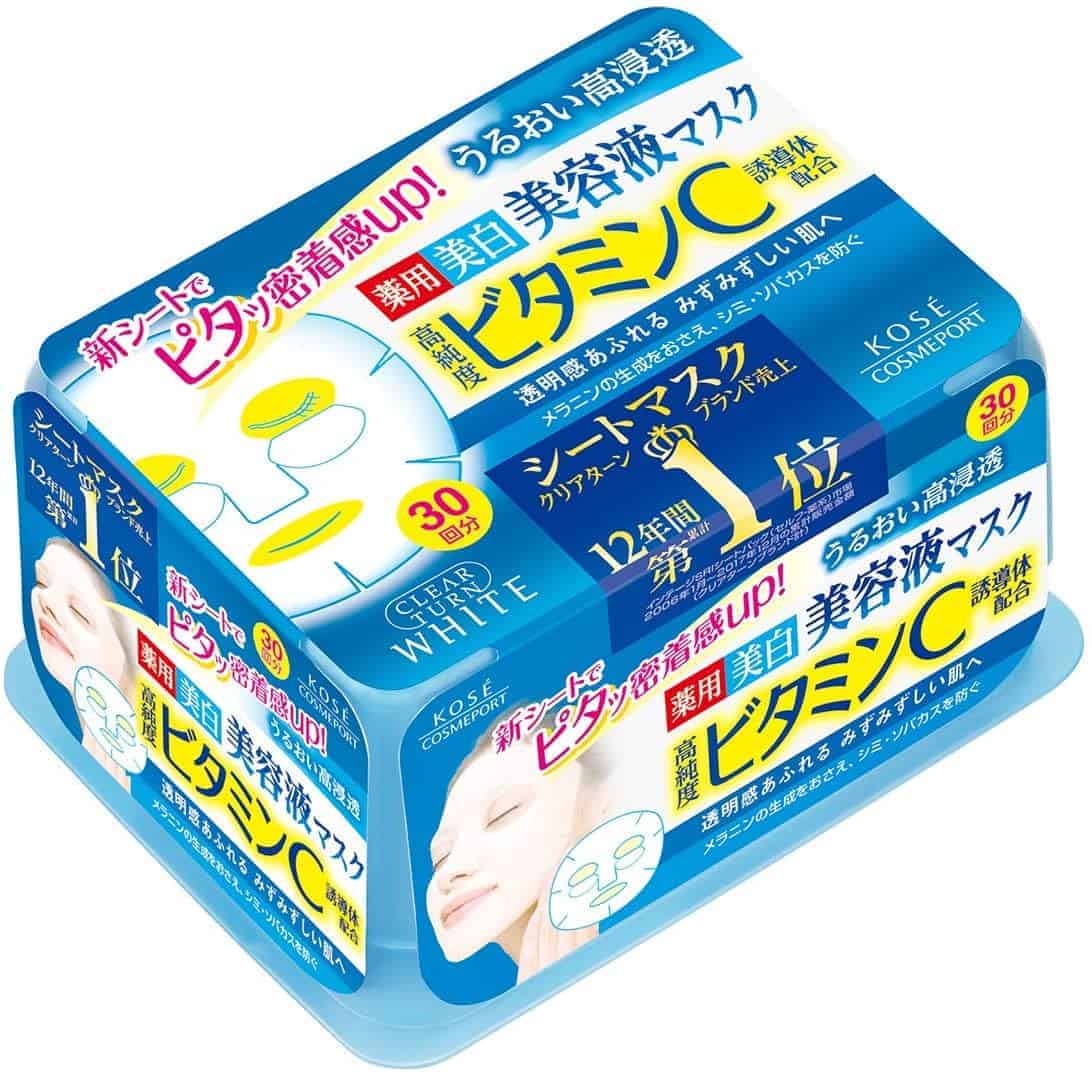 Kose is a much loved Japanese skin care brand that is similar to Lululun, another sheet mask brand included in our list. Kose is a tad bit cheaper than Lululun and it makes quality sheet masks for daily use. It is a perfect option to start incorporating vitamin C, one of the best anti-aging ingredients ever, to your skin care routine.
Pros
Brightening

Anti-aging

Fighting hyperpigmentation
Kose Clear Turn Essence Facial Mask Vitamin C is a bit different compared to other previous recommendations. Instead of a box containing 5 or 6 separately packaged sheet masks, there are 30 masks packed in bulk in a sealed, easy to carry packaging. Compared to other masks it is much more environmentally friendly.
Thanks to Vitamin C and horsetail extract in the formula, it can brighten your skin and help you recover from hyperpigmentation.
It is fragrance-free which is great for sensitive skin.
These masks are designed for daily or near daily use depending on your needs. There is less serum per mask compared to other masks but this is not actually a drawback. For the uninitiated and those with dry or sensitive skin, high amounts of Vitamin C can be irritating. This makes Kose Clear Turn Essence Facial Mask Vitamin C a great alternative to harsher (and more expensive!) vitamin c serums and masks.
Cons
You will have to turn the box upside down once in a while so that the serum product that pools under the box can penetrate all the sheets.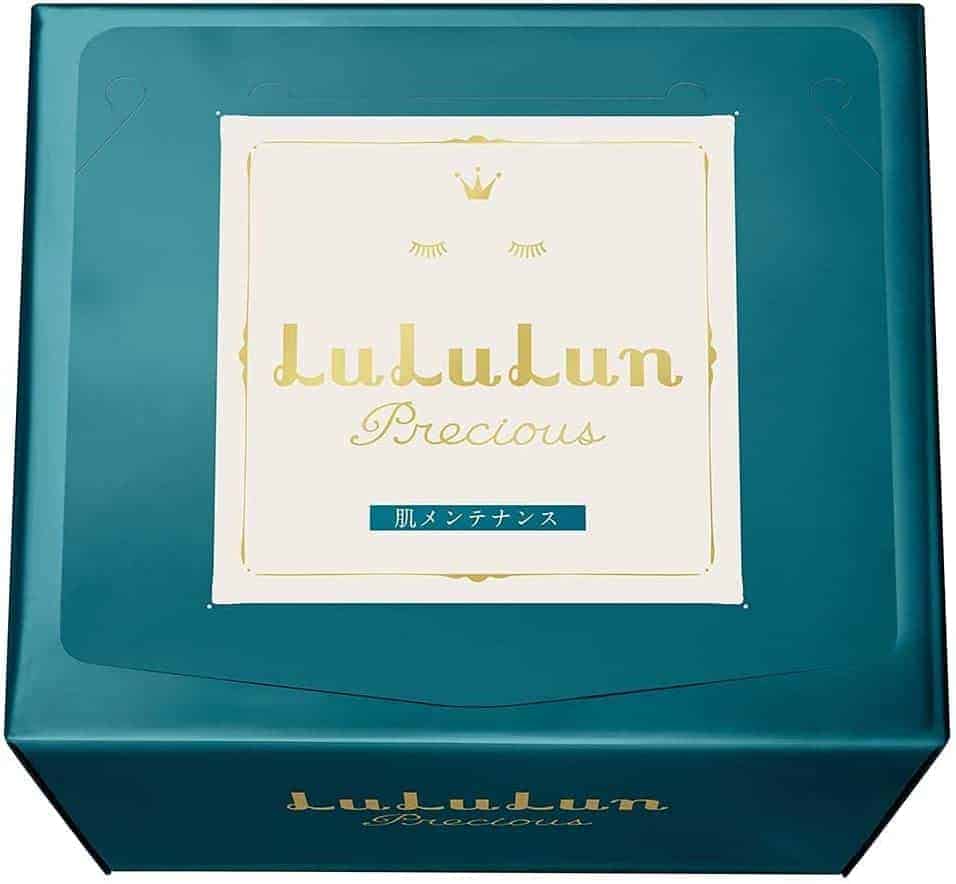 LuLuLun is one of Japan's best-selling luxury sheet mask brands and their precious line is specially formulated for anti-aging benefits. The packaging for this mask is similar to Kose's and contains 32 sheet masks for daily use. 
Pros
Brightening

Anti-aging

Moisturizing
Lululun Face Mask Precious Green differs from our other recommendations because it is not a serum mask. It is a toner mask you can use daily. 
The formula combines prebiotics with collagen and seaweed extract which are great for anti-aging and brightening.
This mask is particularly famous for containing lipids that help with the sebum balance of your skin, creating a youthful look.
What it doesn't contain are irritants such as alcohol, mineral oil and artificial fragrances, making this mask a great choice for people with sensitive skin.
This is great for daily use on dry skin. Even people with oily or combination type skin can use it thanks to its lightweight texture.
Cons
Like the Kose brand, the box needs to be turned upside down occasionally in order to evenly lay out the serum onto the sheets.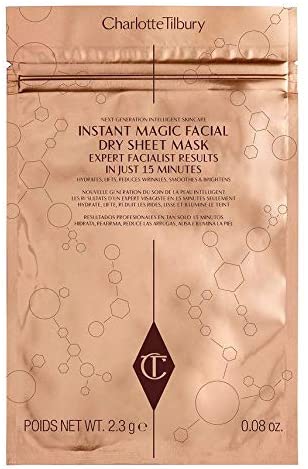 Charlotte Tilbury Instant Magic Facial Dry Sheet Mask is created by the celebrity makeup artist and beauty guru Charlotte Tilbury. You may not be planning to attend as many red carpet events as her A-list fans and customers but this luxurious sheet mask can give you that extra oomph before a special day.
Pros
Unlike our other recommendations which are serum or toner based, this is a completely dry mask. This mask can be used three times. You simply put it back into its pouch after using it for 15 minutes. 
This is a very heavy duty mask that does it all: It hydrates, lifts and brightens your skin. The formula is a revitalising cocktail of vitamins, minerals, peptides,  botanical extracts,  oils and butters that nourish and brighten skin.
It is hypo-allergenic, free of sulfates SLS and SLES. It is also cruelty-free.
You can use the ear hooks on the mask to fit it perfectly to your face. This is a perfect mask to wear while you are running errands or doing chores.
Cons
Charlotte Tilbury Instant Magic Facial Dry Sheet Mask is expensive. One of the most luxurious options in the sheet mask game, this mask costs around £20. You can use it for 3 times, which brings the price down to £7 per use. It is still very expensive compared to the other options but it is more affordable compared to SK II Pitera Facial Treatment Mask which costs around £14 per mask.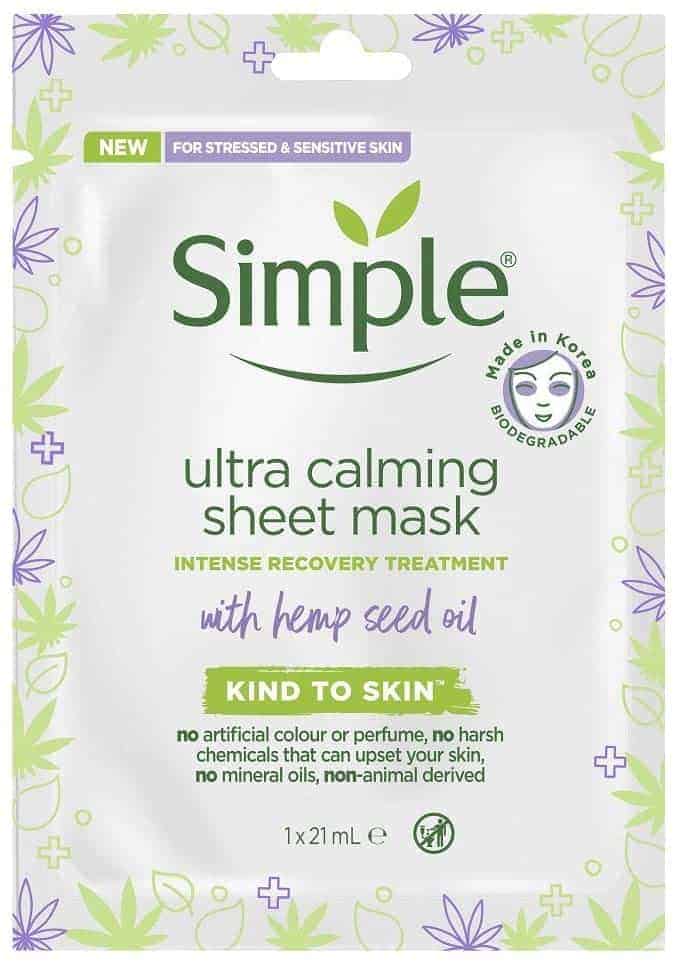 If you don't need all the bells and whistles of an extravagant beauty regime or you are looking for a mask that will calm and soothe face allergies or eczema, Simple Ultra Calming Sheet Mask is the right mask.
Pros
Heals Irritation

Soothes sores

Hydrates
Simple Ultra Calming Sheet Mask contains organic Hemp Seed oil that soothes dry skin. It is also rich in fatty omega acids that are great for replenishing skin.
The formula includes Vitamin A, Vitamin B3, Vitamin D and Vitamin E all of which have beneficial properties. Vitamin E is an especially great healing agent for damaged skin.
This mask receives high praise from people with sensitive skin. It doesn't contain artificial perfume or harsh chemicals that can upset your skin.
The sheet is made from all natural fibers. 
It is PETA certified vegan and cruelty-free. Packaging is recyclable.
Cons
It may not be a good fit for people with oily skin.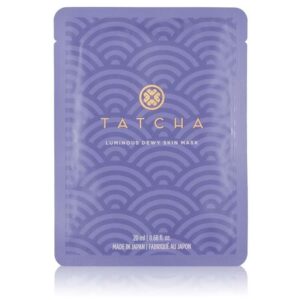 Tatcha Luminous Dewy Skin Sheet Mask claims to give a luminous shine to your face, creating a dewy youthful look. Aye aye! One of the most beloved sheet masks to grace the earth, it deserves all the praise it gets.
Pros
H

ydration

Smoothing

Radiance
The mask formula is inspired by traditional Japanese skin care ingredients.
 Okinawa Red Algae, Sweet Marjoram and wild thyme increase moisture retention capability of the skin. 
Rice germ oil packed with vitamin E and squalene soothes and moisturizes the skin.
Finally, the formula includes the brand's signature anti-aging complex called Hadasei-3 derived from traditional Japanese diet. 
It is formulated without mineral oil, synthetic fragrances, sulfate detergents, parabens, urea, DEA, TEA or phthalates.
Cons
It is not always stocked on Amazon and it can be hard to find because it is USA based. Fans are always on the lookout to find stocks.
Buying Guide
Let's see what makes a sheet mask the right mask for you.
Skin Concerns
Do you have dry skin and a lot of flaking? Or maybe you have oily skin that still feels dry because you are using anti-acne products? Use a lightweight hydrating mask like Mediheal N.M.F Aquaring Ampoule. If you have a lot of hyperpigmentation choose a mask that has Vitamin C. It is best to pick a mask that suits what your skin needs, it doesn't have to be the most expensive or most luxurious to work.
Decide on a Budget
Some of these masks we recommended are quite high end. While these masks offer a truly luxurious, spa-like treatment for your face, you don't have to go bankrupt in order to benefit from a sheet mask. Budget options can help you achieve the skin you want.  
FAQs
What Are Active Ingredients?
What are active ingredients? Well, when we call some ingredients active it means that they are very effective at what they set out to do. Some common actives are Niacinamide, Hyaluronic Acid, Vitamin C, Retinol and Salicylic Acid. However, actives are also irritants especially at high doses. They could trigger a potential reaction from the skin. Most of the time, this is a good reaction but you should always do a patch test before using a product with active ingredients. If you are using a product that has active ingredients apply sunscreen everyday.
How Do I Use A Sheet Mask?
Incorporating a sheet mask to your skin care routine is pretty simple. First, clean your face and apply toner. Once your face is dry, place the mask on your face, starting around the eye area. Gently spread the mask over your face to cover chin, cheekbones and forehead. Pat it gently to ensure it will stay on your face. Remove after 10-15 minutes or however long it says on the package. After disposing of the mask, gently massage the remaining liquid on your face. Do not wash off your face or all the benefits of the mask will go down the drain as well. You can wipe off the excess if it bothers you. Apply a moisturizer afterwards to seal the ingredients.
What Are Sheet Masks Good For?
Sheet masks are an affordable and easy way to nourish your skin and pamper yourself in the comfort of your home
Conclusion
If you don't have any specific skin concerns (lucky you!) go with a mask like Mamonde Flower Lab Essence to treat yourself and provide a bit of extra hydration. You can also use Lululun Face Mask Precious Green which is suitable for all skin types. If you need hydration, N.M.F Aquaring Ampoule is a great choice. Simple Ultra Calming Sheet Mask can help you recover your skin's moisture barrier if your skin needs soothing. Dr. Jart Dermask Micro Jet Brightening Solution will brighten your face immediately, and you can use Kose Clear Turn Vitamin C masks for a subtler but consistent brightening effect. No7 Protect & Perfect Intense Advanced Serum is perfect for addressing aging problems.
Higher end masks such as Charlotte Tilbury Instant Magic Facial Dry Sheet Mask, Tatcha Luminous Dewy Skin Sheet Mask or SK II Pitera Facial Treatment Mask are great at many things. They hydrate, lift up, create a brighter and healthier complexion. Use these masks before an important or special day and your face will thank you (so will your wallet).