ReSound is a hearing aid innovator that dates back to 1943. They provided the first Made for iPhone hearing aid in the world and now has a presence in over 80 countries worldwide. Part of the GN Group, their headquarters are based in Denmark and their brand motto is 'To place people with hearing loss at the heart of everything we do'.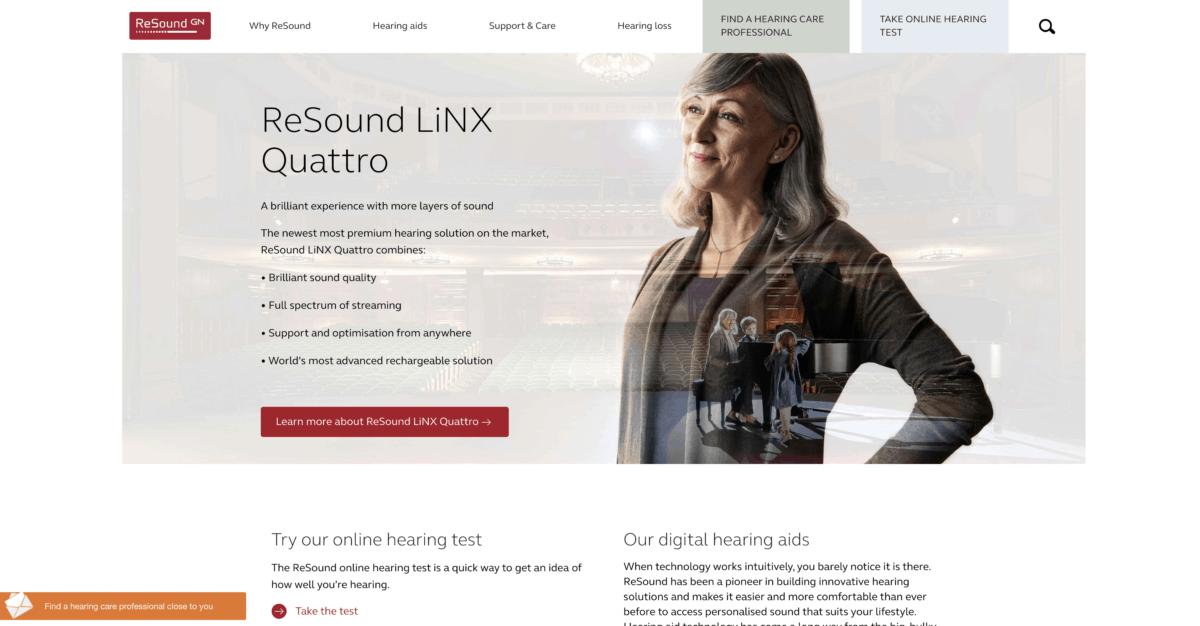 Product
thehearingaid
advicecentre.co.uk Price
hearingaid.org.uk Price
LiNX Quattro 9
£1,700 per aid
£1,695 per aid, or £2,795 per pair
LiNX Quattro 7
£1,400 per aid
£1,395 per aid, or £2,395 per pair
LiNX 3D 9
£1,700 per aid
£1,595 per aid, or £2,695 per pair
LiNX 3D 7
£1,400 per aid
£1,295 per aid, or £2,295 per pair
LiNX 3D 5
£1,200 per aid
£1,095 per aid, or £1,895 per pair
Please note prices were accurate at the time of writing (October 2019) but may have changed. Source: thehearingadvicecentre.co.uk and Hearingaid.org.uk.
Main products:
LiNX Quattro 9 and 7
ReSound describe their LiNX Quattro models as the most advanced rechargeable hearing aid.  Quattro 9 is the premium model that offers improved features such as more WARP channels (17 to 14), more Gain Handles (17 to 14) and enhanced performance in NoiseTracker II and Windguard. Other improved categories include Environmental Optimiser and Binaural Environmental Optimiser and Sound Enhancer. The Quattro is also described as bringing richer, and fuller layers of sound.
LiNX 3D 9, 7 & 5
ReSound introduced their 3D hearing aid models with a focus on improving the sounds around you. Unlike the Quattro models, they are not rechargeable. LiNX 3D 9 includes automatic environment management and is suitable for mild, moderate and severe hearing loss. Similarly to the Quattro, moving up to the premium 9 model gets you more WARP channels (17 to 14 to 12), more Gain Handles (17 to 14 to 12) and enhanced performance in NoiseTracker II and Windguard.
ReSound Reviews
Consumeraffairs.com Reviews
There were 36 reviews on Consumeraffairs.com with an average rating of 3.5/5 stars. iPhone users were particularly positive with their reviews, although there is a big range of comments including:
The MFi capability tightly integrates the hearing aids directly to the phone.
The left mold has been sent back 5 times due to loose speaker wires and speaker problems.
ReSound really improved my quality of life 100%.
They are very comfortable and I have no trouble wearing them.
The two things that I like the most are the design of it with the speaker and the telephone connection capability to adjust it.
While they do amplify a little, I still cannot hear well with them.
Forum.hearingtracker.com Reviews
Forum.hearingtracker.com discussions were on the whole fairly positive about ReSound and included:
With Resound Linx Quattro and Resound Linx 3d the voices sounded tinny.
I have to put in a lot of effort in noisy environment to understand speed.
They are not good at filtering speech in noisy environment.
With Resound ENZO 3d, reduced listening effort and voices sounded very rich.
I have Quattro with UP/mold, it works great.
Pros
Control via iPhone app
Personalisation of sound settings through app
Discreet design
Videos and support docs provide quality support
Award-winning, innovative company
Cons
Non-iPhone users do not have the same quality of experience
Wires and speaker problems reported/frequent repairs
Program update
Multi-mic drains battery quickly
Visit the ReSound website to find out more about their different models and features.