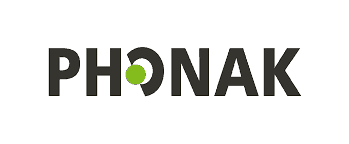 Phonak is a leading hearing care solutions company that was founded in Switzerland in 1947, which expanded to become a global entity with offices in many countries around the world. Their Phonak Marvel hearing aid model launched in 2019 and is a popular choice with advanced features and excellent user experience.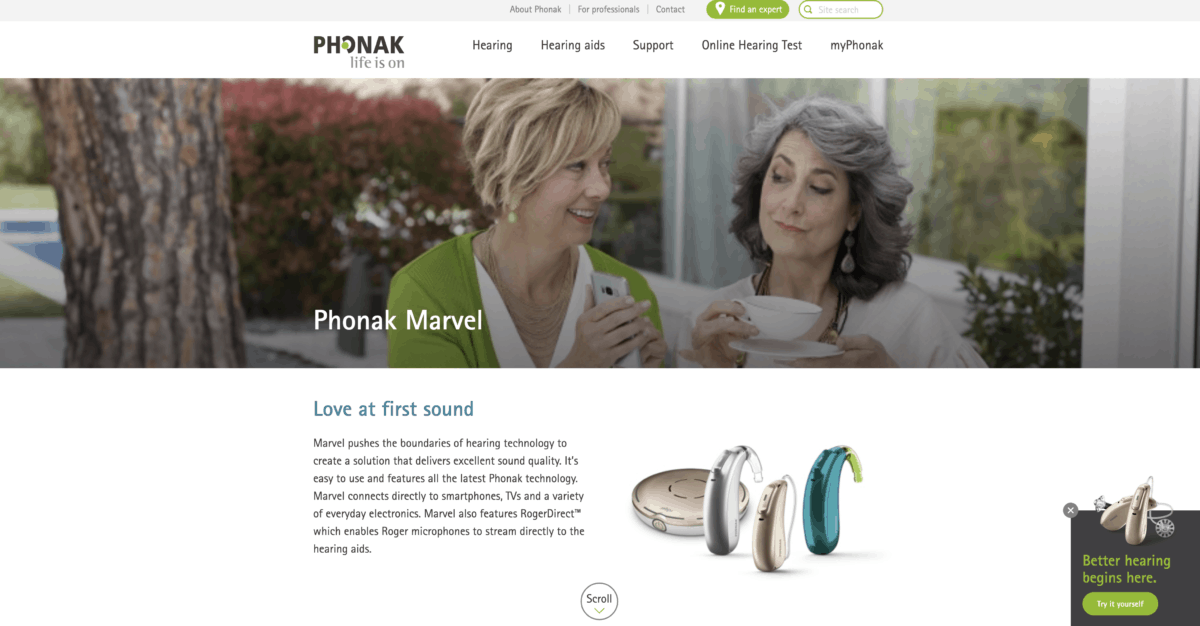 Product
Boots Price
(per pair)
Specsavers Price
(per pair)

Hearingaid.org.uk
Price
(per pair)
Phonak Belong 90 Titanium
£2,945
£2,695
n/a
Phonak Marvel 90 Rechargeable
£2,945
£2,695
£2,695
Phonak Marvel 90 Standard
£2,845
£2,695
£2,695
Phonak Belong 90
£2,845
£2,695
£2,695
Phonak Marvel 70 Rechargeable
£2,645
£2,395
£2,295
Phonak Belong 70 Titanium
£2,645
£2,395
n/a
Phonak Marvel 70 Standard
£2,545
£2,395
£2,295
Phonak Belong 70
£2,545
£2,395
£2,295
Phonak Marvel 50 Rechargeable
£2,445
£1,995
£1,995
Phonak Marvel 50 Standard
£2,145
£1,995
£1,995
Phonak Belong 50
£2,145
£1,995
£1,995
Phonak Marvel 30 Rechargeable
£2,095
n/a
£1,695
Phonak Marvel 30 Standard
£2,045
n/a
£1,695
Phonak Belong 30
£1,945
n/a
£1,295
Phonak Virto B-Titanium 90
n/a
n/a
£2,695
Phonak Virto B-Titanium 70
n/a
n/a
£2,295
Please note prices were accurate at the time of writing (October 2019) but may have changed. Source: Boots, Specsavers, and Hearingaid.org.uk.
Main products:
Phonak Audeo Marvel 90
With cutting edge technology such as AutoSense OS 3.0, the Marvel hearing aid has excellent sound quality and speech understanding. This hearing aid recognises and automatically adapts to match more listening situations than previous models.
Phonak Virto B-Titanium Belong
This hearing aid is made from medical grade titanium and has been developed for mild to severe hearing loss and is a discreet model that sits in the ear. It is water and dust resistant, whilst also lightweight and durable.
Phonak Virto B Belong
Features AutoSense OS and is the world's first hearing aids with Biometric Calibration. Provides increased accuracy and precision compared to models without the Biometric Calibration. Also features WhistleBlock, NoiseBlock and Speech in Noise.
Phonak Reviews:
Trustpilot Reviews
Trustpilot – Based on 11 reviews, Phonak scored 3/5 stars and was rated as Average (as on 17/09/19).
Comments included:
Very helpful customer service
Charged for online help
Replied promptly and very helpful
Consumeraffairs.com Reviews
Consumeraffairs.com From 84 reviews Phonak scored 2.5/5 stars
Comments included:
Worked beautifully to start with, then started eating batteries and the volume control was intermittent.
Phonak Audeo B-Direct is the best I have experienced.
Never performed properly
Excellent power and sound quality
Consumeradvocate.org Reviews
Consumeradvocate.org – From 7 cutsomer reviews, Phonak hearing aids scored 3.9/5 and rated Very good. The scored maximum 5/5 for after-sale service, whilst their rating for Product Offerings only scored 3.5/5.
Comments included:
Worked every day without failure
Wonderful except for summertime when sweat gets into the battery case causing the battery to die.
Tube is too short
More options to hear in a wide range of places
There were several discussions on forum.hearingtracker.com related to Phonak, with some of the main concerns being moisture symptoms. However, there was a suggestion that the rechargeable models are more water-resistant. Some customers also had issues with the Phonak app and one even referred to it as 'a waste of time'.
Forum member TraderGary stated: "I'm satisfied after 9 months that AutoSense OS 3.0 does what it is supposed to and really does automatically select the best program for the situation I'm in."
Pros
Industry-leading technology
Large selection range
Custom-made
AutoSense OS auto adapts to sound environments
Fast charging
Cons
Prone to water problems
Phonak app has had reports of connectivity issues
More expensive than other models
Low ratings from customers
Customers complain of requiring regular repairs
You can view the latest Phonak models and find out more about their features on their website – Phonak.com