Handicare was founded in 1986 by three young, paralysed men that were determined to improve their quality of life through mobility solutions. The Handicare headquarters are based in Stockholm, Sweden and they are a global business operating in over 20 countries.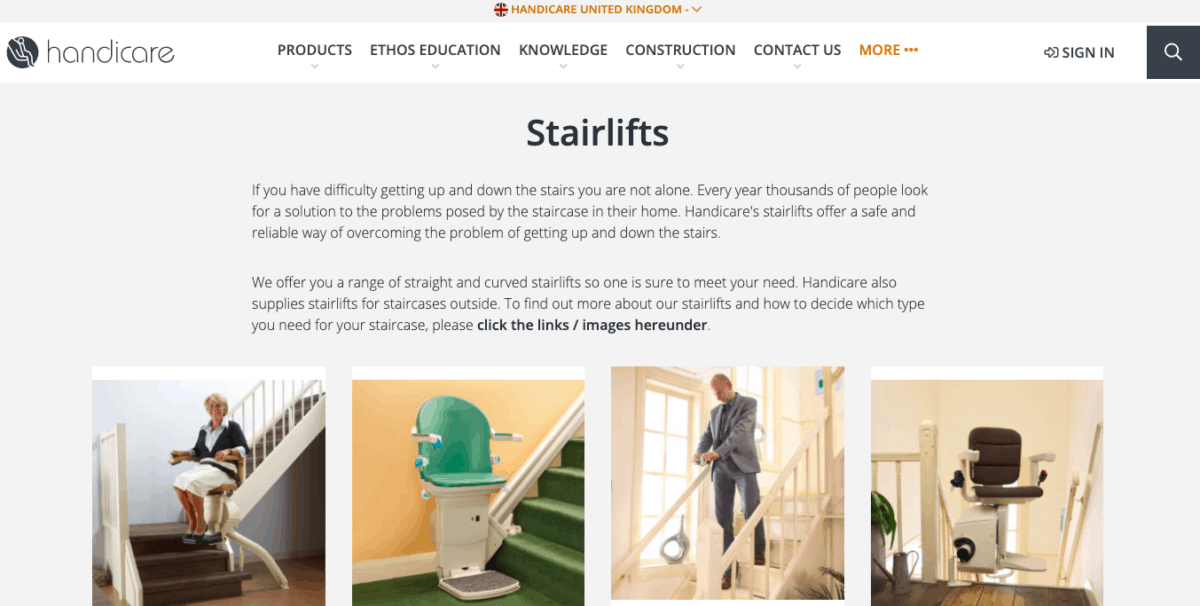 Main Products
Handicare 1100 Straight
This product is Handicare's slimmest stairlift and they claim that it is the narrowest on the market, meaning that there is more room on the stairway for other stair users. It has a stylish ad compact design and the seat, footrest and armrests can all be folded away when not being used.
Handicare 1000 Straight
The Handicare 1000 is also a slim stairlift but it provides a heavier weight capacity than the alternative Handicare models. The XXL has a capacity of 200kg and is supplied with extra arm spacers to widen the space between the arms. Similar to the 1100 model, the footrest, armrests and seat can all be folded away.
Handicare 950+ Straight
The Handicare 950+ stairlift is a full-powered straight model and it is the upgraded version of the 950. The additional features include powered and automatic extras that the 950 does not offer. The continuous charging function is one of the key benefits.
Handicare 950 Straight
This model is the more basic straight stairlift model from the range and is the most cost-effective option. It is manually operated, although a powered footrest can be purchased. IT also provides a continuous charge function.
Handicare 2000 Curved (Twin Rack)
The Handicare 2000 model can be fitted to bending staircases and this one is a good solution for compact stairs, due to having the tightest bend that any stairlift manufacturer provides. The double rail ensures added stability compared to the single rail option.
Handicare Freecurve
The Freecurve is a model that is customised to your staircase dimensions and details. It comes with both powered and automatic options and is available in different style choices.
Handicare Reviews
Trust Pilot Reviews
From 206 reviews (as of 17/10/19) Handicare was rated as Average with 3.7 stars on Trustpilot.com.
Reviewers comments included:
Fast, efficient service.
Good value for money.
Very friendly call centre.
The administration was what let Handicare down.
The retractable version is noisy.
Feefo Reviews
From 66 service ratings on Feefo.com, Handicare received ratings of:
4.5/5 for customer experience
4.6/5 for product rating
Reviewer comments included:
The team that fitted the stairlift were excellent
Very efficient, no problems from start to finish
Did not keep harassing me for order and very good price.
Some reservations about the wider experience with the company
Consumeraffairs.com Reviews
Based on 93 ratings Handicare scored an overall satisfaction rating of 4.5 stars on Consumeraffairs.com.
Reviewer comments included:
Our straight stairlift is nice and the cost is very reasonable.
The quality is very good and it's worth it.
The stairlift is expensive but its quality is good.
I was very pleased with our experience with Handicare Stairlifts.
I got the straight one and it's perfect for my stairwell.
Pros
Range of options – more than most manufacturers
Stylish design available
3D visualization innovative tech
Powered and automatic options
Customisable options
Cons
More expensive than some brands
Some bad reviews regarding customer service
Basic models have limited max weight
To find out more about Handicare's range of products, visit their website – https://handicare-stairlifts.co.uk/