Companion Stairlifts is a UK based stairlift manufacturer that provides a range of stairlift solutions. The West Midlands manufacturer provides two different service plans as well as an installation service.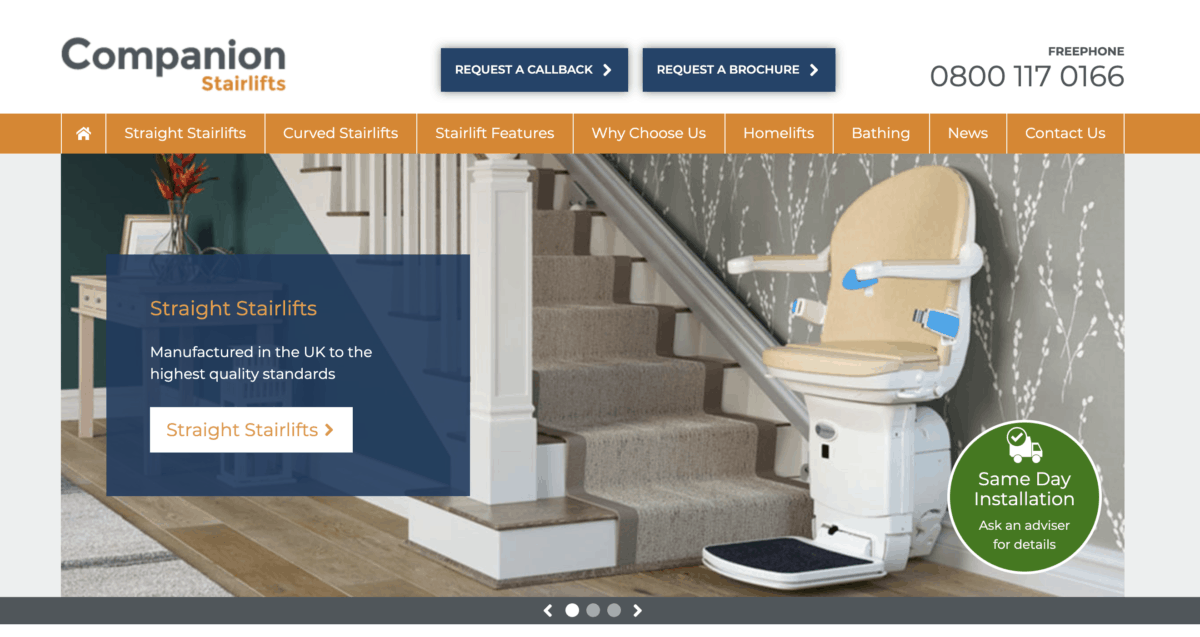 Main Products
1100 Stairlift
The 1100 model is a straight stairlift that has an ergonomically designed intuitive toggle control and the 'four-wheel drive' friction technology includes four quiet motors. This model also has safety sensors and space-saving features such as foldaway seat, footrest and armrest.
1000 Stairlift
Another straight stairlift option, the 1000 Stairlift has a manual swivel seat, slimline rail and several upholstery choices available. A heavy duty motor is available, which takes the weight limit from 137kg to 160kg.
950+ Stairlift
The 950+ has a continuous charge point and internal batteries for use in the event of a powercut. It also has sensors for safety to avoid obstructions. There are a number of upholstery options available.
950 Compact
The 950 Compact is the slimmest option from the Companion range. It has an ergonomically designed toggle switch that makes use easier and the continuous charging point means you can park the stairlift at any point on the stairs.
Freecurve
This is a single track curved stairlift which can be fitted onto very narrow staircases. It can also be customised in design to suit different interiors.
2000 Curved
The 2000 Curved has a manual swivel seat, safety sensors and internal batteries to continue operation in a powercut. There are a number of upholstery choices available and further options include powered swivel seat and heavy duty motor.
Companion Stairlifts Reviews
Feefo Reviews
From 90 service ratings on Feefo.com, Companion scored:
4.6/5 for customer experience 
4.8/5 for product rating
Comments from reviewers included:
Very good professional service
Very pleased with the service, from the initial assessment through to the fitting
Where the tracks join on the stairs there is a bump on the ride
Efficient, effective service by all involved
Trustpilot Reviews
From 337 reviews Companion was rated as Excellent with 4.5/5 stars on Trustpilot.com.
Reviewers comments included:
Very efficient and quick from salesman to fitting.
Stairlift working perfectly since installation. 
The lift looks nice and blends in with our décor.
Excellent workmanship and a good sturdy stairlift.
Pros
Wide range of options to suit all budgets and staircases
12-month parts and labour guarantee
Upholstery colour options
Fast installation service
24/7 support 365 days a year
Cons
Reviewers who gave negative comments complained mostly about customer service
Several issues reported where installation dates were not met
You can visit the Companion Stairlift website for more details about their product range – https://www.companionstairlifts.co.uk/