Brooks Stairlifts began in 1972, when an engineer by the name of Frederick Brooks designed a stairlift for his wife, who had rheumatoid arthritis. The company was formed in 1973 and was based in Surrey. Brooks now operates from West Yorkshire, providing a number of high quality stairlift models. Their products are sold through Acorn Stairlifts, although you are able to order directly through Brooks too.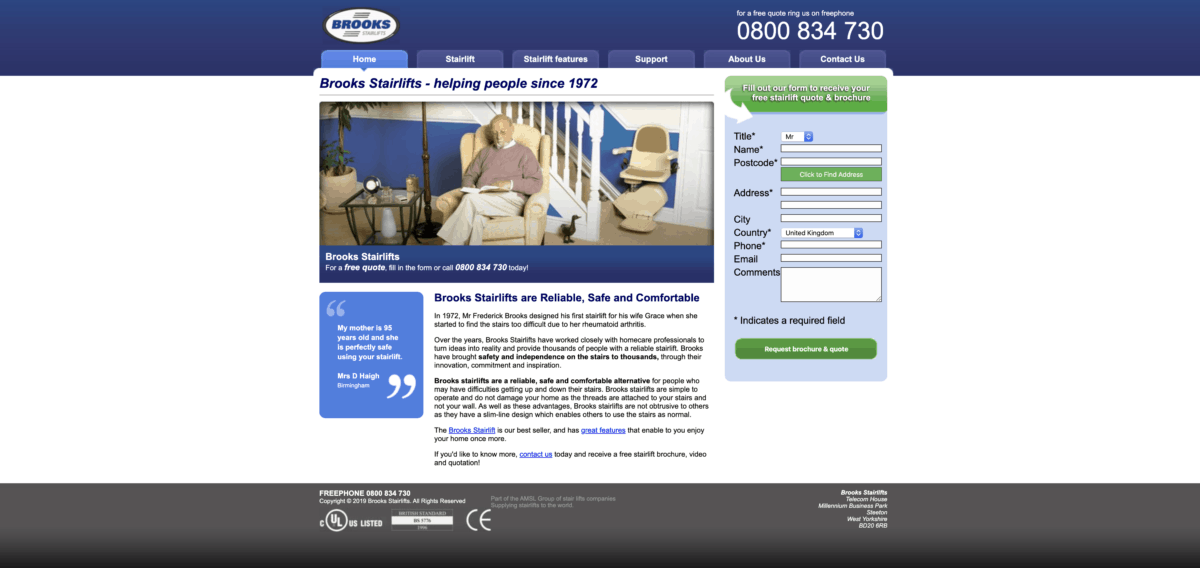 Main Products
Brooks Lincoln Straight
The Lincoln Straight model is a durable stairlift that runs from DC power packs that automatically charge after each operation. Features include soft start/stop for a smooth ride, easy to use joystick control and a remote control system. It comes with a 12-month guarantee and has safety sensors, plus a swivel seat to make it easier to use.
Brooks Reviews
Google Reviews
From 5 reviews on Google, Brooks scored 1.2/5 stars. Comments included:
Bought a brooks Stairlift 2 weeks ago. Has had to be repaired twice already. 

Failed 4 times since it was installed 3 years ago due to the same fault.
There are not many consumer reviews under the Brooks Stairlifts brand name, as they are predominantly sold by Acorn Stairlifts. Therefore, you can check the reviews for Acorn Stairlifts to get an idea of customers' reviews for these stairlifts.
Sold through reputable Acorn brand
Easy to operate
Slim design available
Safety cut-out sensors on carriage and footrest
Swivel seat, locks at either a 45° or 90° position
Extended warranty available
Cons
Weight capacity only goes up to 20st
Brooks website only shows one model of stairlift
Less options e.g. no curved model
Longer to install than other companies
Visit the Brooks Stairlifts website to see more information about their products and services.