If you clicked on this article, chances are you've lost a significant amount of weight, gave birth to a child, or simply gotten up in age.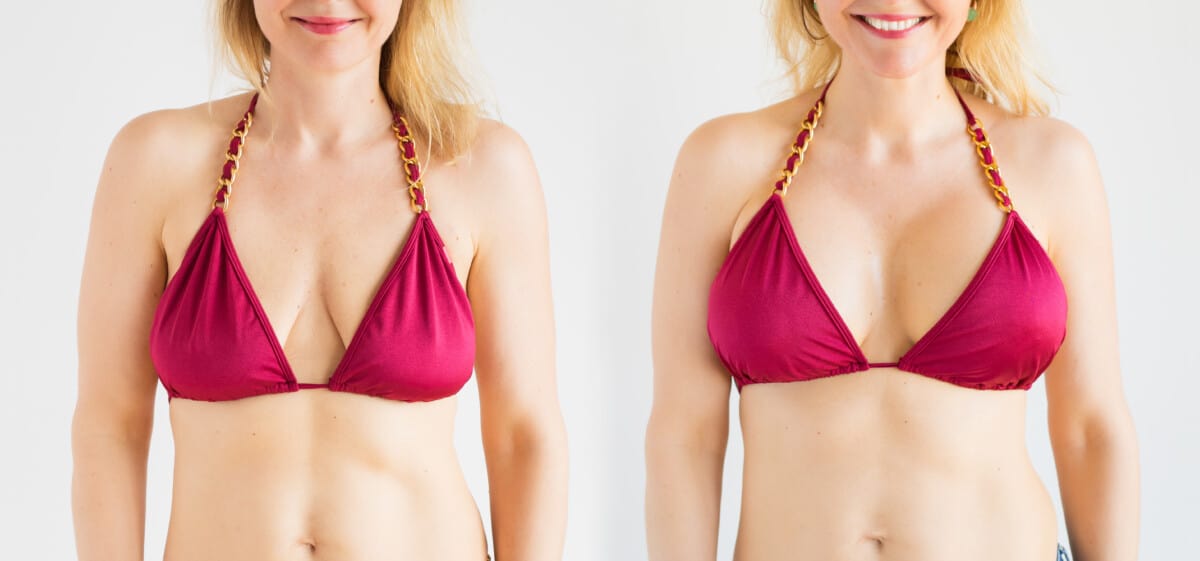 All three of the above-mentioned events share a common denominator: the loss of breast shape and fullness. 
A breast lift procedure, also known as mastopexy, can help you regain your youthful and alluring appearance so that you can tackle the world with utmost confidence. 
In this post, we shed light on the average cost of a breast lift procedure as well as other insights that you ought to take into consideration if you're considering a mastopexy.
How Much Does Breast Lift Cost?
While they can be carried out without any follow-ups, breast lift procedures are usually followed by breast augmentation or breast reduction surgeries, with the former requiring a breast implant. 
On its own, a breast uplift procedure costs around £6,700. When coupled with breast reduction or enlargement, however, the cost increases. The table below indicates the cost of the different variants of the mastopexy procedure. 
| | |
| --- | --- |
| Operation | Cost |
| Breast Uplift with Breast Implants | Around £6,900 |
| Breast Uplift without Implants | Around £6,700 |
| Breast Uplift with Implant Exchange | Around £9,000 |
Keep in mind that each clinic has its own pricing, but it won't deviate much from the above-given numbers. You must also keep in mind that clinics may or may not offer free consultation.
Why isn't there a fixed price for this procedure? Well, because not all humans are the same. We all have unique bodies that require tailored treatment, and so the prices tend to vary based on a few factors, most importantly of which are your personal needs and circumstances. 
Another thing you should keep in mind is that clinics that offer significantly lower prices might or might not have hidden costs such as the cost of on-going aftercare.
You'll also have the option to choose the surgeon as well as the place of operation. Depending on which surgeon and hospital you choose, the prices will vary. 
All of these factors ought to be taken into consideration when weighing the financial aspect of a breast uplift operation.
Is a Breast Lift Worth It?
A breast lift isn't a procedure to be taken lightly, which is why a lot of women are quite hesitant to have it. The question is whether or not this operation is worth it. 
A breast uplift or any other cosmetic procedure should be contemplated carefully based on two aspects: your needs and expectations. Before making your decision, you should discuss these two factors in detail with your surgeon so that you can determine whether it's worth it or not. 
In addition, we highly recommend discussing everything with your family and close friends, as they may have a different point of view from yours. 
With your surgeon's input in mind, as well as that of your close family and friends, you'll find it easier to decide whether a breast lift is worth it or not. 
Am I Fit for a Breast Lift?
Amongst the aspects that you ought to take into consideration when weighing your decision to undergo a breast uplift procedure is whether or not you're suitable for the operation. 
You're fit for a breast uplift surgery if you have sagging breasts, downward-pointing nipples, a lot of loose skin due to significant weight loss, or flat and seemingly empty breasts. 
You're also fit to undergo a breast uplift surgery if you're simply having self-confidence issues due to the negative impact that the shape or fullness of your breasts is having on your physical appearance. 
Age-wise, there isn't a specific age limit that governs the eligibility of having a mastopexy. You should keep in mind, however, that the most suitable candidates for this operation are the ones that are emotionally stable and that are physically in good health. 
If you're overweight and you have plans to shed some weight off your body in the near future, it's better to postpone your decision to undergo a breast uplift surgery until after you've lost that weight. The same applies to those who plan to have children. 
Of course, all of the above will have to be discussed with your cosmetic surgeon to ensure an informed final decision. If a mastopexy isn't an option, there are other alternatives you should know about. 
Alternatives to Breast Lift Surgery
As we mentioned previously, breast lift surgery is often accompanied by breast augmentation or breast reduction, but all three procedures can be carried out independently. 
If you're just looking to change the size of your breasts, consider an enlargement or reduction procedure rather than a breast uplift. 
As you're discussing your goals and expectations in a consultation, your cosmetic surgeon is required to shed light on all of the options you can take. Put differently, just because you think an uplift is what you need doesn't mean it's the most optimal approach/surgery. 
Why Is Breast Uplift Surgery Expensive?
The entire breast uplift surgery takes about an hour and a half's worth of time and is carried out under the effect of a general anaesthetic. 
If you're a smoker, your plastic surgeon should advise you to stop smoking six weeks before the surgery because smoking can increase the risk of developing a wound or chest infection, which, in turn, will slow down your recovery process. If you're overweight, the surgeon may also advise that you shed off some weight before the operation. 
As we mentioned before, not all women are built the same, and so the way surgeons go about a breast uplift surgery tends to differ. To generalize, however, there are three incision types that are opted for during the operation depending on the surgeon's evaluation. 
The first type is incision around the areola, which is the dark area around the nipple. Secondly, incision around the areola and down to the crease in a vertical fashion. Thirdly, incision around the areola, down the crease vertically, and along the breast crease horizontally. 
After selecting the appropriate type of incision for your breasts, the plastic surgeon will remove excess skin, reshaping the breast tissue in the process. To remove excess skin and shape the breast tissue, general surgery tools like sutures, scalpels, and forceps are utilized. Thereafter, they'll reposition the nipple so that it's lifted higher. 
After the surgical procedure is done, your cosmetic surgeon will apply dressings to the incisions. To add, they might put a small tube in your breasts temporarily to help drain any lingering post-surgery fluid. Don't worry, the drain tubes are removed before you're out of the hospital. 
After you're discharged from the hospital, you may be required to wear a special type of bra to support your breasts. In addition, you may need to take medication for pain relief following the dwindling of the anaesthetic's effect. 
Going Home and Recovering From Breast Uplift Surgery
Your hospital stay after undergoing a breast uplift surgery is going to be one to two days. If you plan to be discharged the same day as the operation, make sure you have a relative or friend stay with you throughout the entire process so that they can drive you home afterward. 
If you plan to leave after one or two days from the operation, make arrangements to be picked up, as you won't be able to go home by yourself.
If your breasts look discoloured or somewhat swollen post-surgery, don't be alarmed, it's totally normal. Keep in mind that the lines that are the result of the incisions are permanent, but they'll fade or blend in with the skin over time. After around six months, your breasts will look entirely seamless. 
After undergoing a mastopexy, you want to avoid engaging in any strenuous activity for the first six weeks, and you should completely avoid lifting heavy items. 
If you're a working woman, you'll have to discuss your return to work with your plastic surgeon, as not everyone heals within the same timeframe. All that you perceive as normal activities should be discussed with your surgeon before engaging in them, especially if they're strenuous.
What Are the Different Stages of Breast Uplift Recovery?
The effects of breast uplift surgery tend to completely dissipate after nine months, but what exactly should you expect to encounter and do during this nine-month period? Below is a simple breakdown.
Week 0-1
During the first week after a breast uplift operation, you'll experience slight discomfort and pain for which you'll need to take some mild painkillers. Avoid taking aspirin completely. 
As mentioned previously, you want to avoid all strenuous activity, but that doesn't mean you should remain completely still. It's highly recommended that you walk around often in order to avoid post-operative complications. 
And lastly, you want to wear a sports bra both day and night for the first three weeks in order to support your breasts. 
Week 2-3
Throughout the second week after the breast surgery, you'll begin to feel pain and discomfort as you move around. It might even pull a little. Dissolvable stitches will begin to dissolve and all the non-dissolvable ones will be removed. 
Generally speaking, most working women who have undergone mastopexy were able to return to work after two weeks. Further, you'll be able to gradually increase your activity
Week 4-6
Even after four weeks from your breast lift operation, you still want to avoid pushing or lifting any heavy objects. All strenuous activities should still be avoided.

While you need to wear a sports bra day and night to support your breasts during earlier weeks, you can take off your bra during the night after starting the fourth week. Just keep one on during the day. 
Any loss of sensation that you've experienced in your nipples or breasts during earlier weeks is bound to improve from the fourth week onward. 
Month 6-9
As you approach the sixth month after your operation, you'll notice that the scars begin to fade and blend into your skin. They'll continue to soften and fade till the ninth month; only then can you assess the results of the operation. 
Side-Effects of Breast Lift Surgery
Breast uplift is an operation that's usually followed by some unwanted side-effects. Luckily, these side-effects are just temporary. 
The most common side-effect of an uplift surgery is bruising, soreness, and swelling around the nipple or breast. However, they tend to dissipate after a few weeks from the operation. 
Sensation in the nipples and breasts may increase or decrease after the operation compared to before the operation. Lastly, you might develop permanent scars that are quite noticeable at first but tend to fade with time. 
Potential Complications of Breast Lift
No matter the surgical procedure, there's always a risk of complications that must be accounted for and discussed with your surgeon, and breast uplift is no different. Below is a list of the most common complications associated with breast uplift surgery.
Breast Uplift Complications:
Shoulder stiffness

Loss of areola or nipple skin

External numbness or pain

Altered sensation in the breasts

Blood collecting under the skin

Infection (needs antibiotic treatment)

Lump development in the breasts

Hypertrophic or keloidal scars

Internal swelling in the breasts

Hindered breastfeeding

Cosmetic problems
Frequently Asked Questions
Can I Breastfeed After a Breast Uplift?
Generally, breastfeeding is possible after a breast lift. However, you want to keep in mind that if your nipples get repositioned, they may no longer be connected to your milk ducts, which will make breastfeeding impossible. If you plan to breastfeed in the future, you want to discuss your concerns with your plastic surgeon so that they weigh the option of keeping your nipples and milk ducts connected. 
When to Judge the Results of a Breast Lift?
While it's possible to see the results of a breast uplift right after the cosmetic surgery, you'll have to wait a few weeks for the swelling and bruises to wear off so that you can assess the results fairly. This may take anywhere from six to nine months. 
Will a Breast Lift Result in Visible Scarring?
Yes, red scars will be visible immediately after a breast uplift. However, as time goes by, these scars will start to lighten up and fade away. After nine to twelve months, the scarring should completely dissipate. The more proficient the surgeon is, the less scarring there will be, so make sure you book your procedure with a reputable surgeon. 
How to Choose the Right Surgeon?
When trying to determine which plastic surgeon to go to for your breast lift operation, you want to consult your GP first, as they'll most likely be aware of all the surgeons in your area. Further, your GP will be able to deliver vital health information from your medical records to the surgeon. 
Another thing you should take into consideration is the surgeon's qualifications. You can visit the General Medical Council's specialist register to see whether or not the surgeon is registered with the GMC. We also recommend checking the Royal College of Surgeons' list. The area of practice to look for is breast uplift surgery, breast surgery, or plastic/cosmetic surgery. 
After pinpointing the right surgeon, you want to make sure you have the right hospital. You can do that by checking whether or not the hospital is registered with an independent regulator such as the Care Quality Commission, Healthcare Improvement Scotland, Regulation and Quality Improvement Authority in Northern Ireland, or the Health Inspectorate Wales. 
Do I Need a Special Bra During Recovery?
You do. During the first six weeks after the surgery, you'll be required to wear a post-operation bra or a supportive sports bra that isn't underwired. The bra should be worn both day and night. Your healthcare or patient care team should specify exactly what to wear after the surgery. 
When Will I Regain Full Nipple Sensation?
After a breast lift operation, your nipples are bound to feel more or less sensitive than they were, which is totally normal. Full sensation in the nipples will be regained after around six months. It could take more or less time to fully be regained; it's not the same for all women.