There are many reasons why women who have had a breast enlargement might feel the need to have their breast implants removed. The reasons could be medical or cosmetic.
Some of the most common medical reasons for removing breast implants include sunken or ruptured implants, and capsular contracture. Cosmetic reasons include the desire to increase or decrease the size of the implants, or the desire to remove them completely.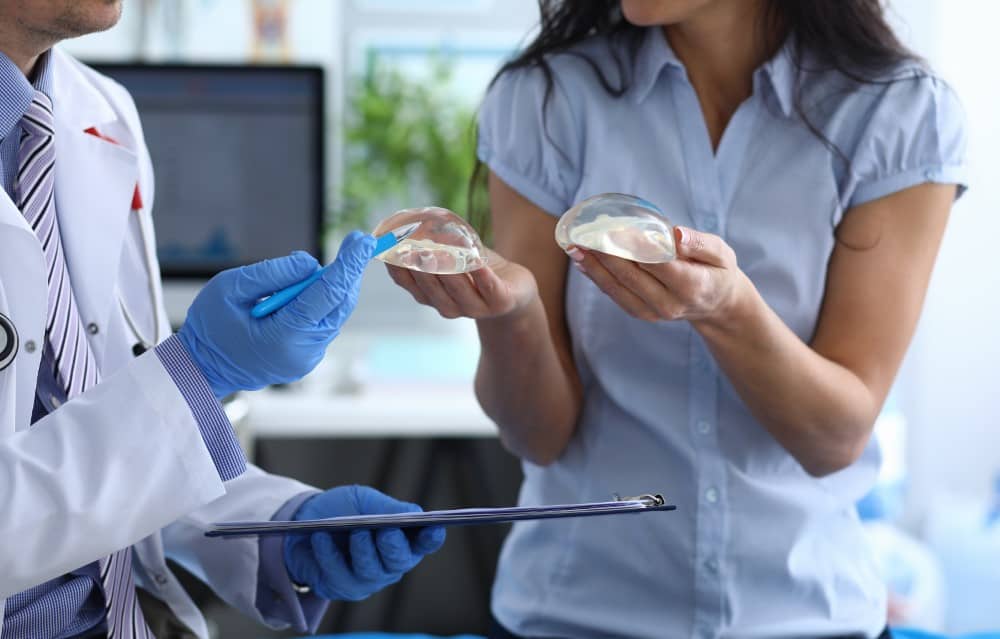 Just because your breasts look a certain way today doesn't guarantee that they'll retain their shape forever. Generally speaking, breast implants require replacements every 10 years or so. 
In this article, we cover everything you need to know about breast implant removal procedure, from its cost, finance and what it involves to what you should expect before and after the operation. 
How Much Does Removing Breast Implants Cost?
There isn't a straightforward answer to this question, as there are different surgical options that you can choose for a breast implant removal. 
You can have your implants removed with or without replacing them. You can have an en bloc operation. You could be dealing with breast capsulectomy. The bottom line is that it all boils down to the nature and complexity of the procedure. 
Just to help set your expectations, however, most breast implant removal surgeries tend to start around £4,800.
Different Surgical Options for Breast Implant Removal
As mentioned in the previous segment, having breast implant removal surgery isn't really as one-dimensional as it sounds. There are a few different cases and scenarios that entail different approaches to the procedure. If you're considering breast implant removal, you ought to be familiar with these cases.
Firstly, we have basic breast implant removal surgery, which is basically when you have your implants removed without having any further surgery. 
Secondly, we have breast implant replacement, also known as breast re-augmentation, which is when your implants are removed and replaced by newer implants. The new implants could be smaller, larger, or the same size as the original implants. They can also be of a different shape. 
Next, we have breast capsulectomy. This is a version of breast implant removal that deals with capsular contracture, which is a condition that causes a lot of pain and may even distort the appearance of your breasts. In this operation, the lining around your implant, also known as the capsule, is removed. Thereafter, you can keep your original ones or you can replace them. 
There's also en bloc surgery, which is when both the capsule and breast implant are removed simultaneously whilst the implant is still within the scar tissue capsule. This is one of the more complex breast surgeries, and it's not always possible. 
In some cases, the capsule tissue is firmly attached to the chest wall, making it hard to remove. Additionally, if the capsule tissue is too thin, en bloc surgery can be quite challenging. Breast capsulectomy is usually opted for as an alternative to en bloc surgery. 
Next, we have breast implant removal with uplift. This operation combines two different procedures, as the name suggests. Firstly, the implants are removed. Thereafter, the nipple is lifted. This operation is opted for in the event of overly stretched breast tissue. 
And lastly, we have breast auto-augmentation, which is one of the more popular options amongst patients, as it ensures volume retention even after the removal of implants. How so? By using the existing breast tissue to reshape the breasts, giving them a fuller and uplifted look. 
What to Expect During Initial Consultation?
As with any operation, an initial consultation is required before the procedure. During the consultation, you'll be able to communicate your needs and concerns to your breast surgeon.
The surgeon, based on the information you've provided, should then be able to determine the most ideal option for your situation. 
If you're getting an implant replacement, your surgeon will highly likely showcase different sizes and shapes of implants, just as if it's your first time getting breast implants. 
After the initial chatter, the cosmetic surgeon will begin reviewing your medical history, asking you questions about current or past health conditions. You'll also be asked about your history with smoking, alcohol, and drugs. We urge you to be completely honest with your surgeon about such information to ensure the best possible results.
Thereafter, your surgeon will begin examining your breasts, measuring their size as well as the quality/thickness of the skin. Based on these measurements, your surgeon will recommend the type and size of your new implants, if you were to have an implant replacement, of course. 
Your surgeon will also point out the risks and potential complications associated with breast implant removal/replacement surgery. The recovery process and aftercare are also discussed during the initial consultation. 
By the end of the consultation, you'll be assigned a patient coordinator, which will serve as your guiding light in the event of you proceeding with the operation. Your patient coordinator will help point out what you should and should not do before and after the procedure, along with other aspects of that nature. 
Initial breast surgery consultations are usually free in the UK. You can have more than just one consultation before actually proceeding with the operation. Just make sure you're physically and emotionally prepared before making your decision. 
What to Expect Before the Procedure?
After the initial consultation, you'll be medically reviewed to ensure meeting the chosen clinic's patient selection criteria. Subsequently, you'll undergo pre-operative tests chosen by one of the pre-operative nurses at the clinic. This is to ensure that the procedure is appropriate for you. 
The most common pre-operative tests that patients have before undergoing breast surgery include urine test, blood test, blood pressure test, and MRSA swabs. 
You'll also be given specific instructions on what you should and should not do during the few days leading to the procedure. You'll also be advised about medication that you shouldn't be taking. 
What Does Breast Implant Removal Surgery Involve?
Before you enter the operating theatre, the medical team at the chosen hospital will help make sure you're comfortable and emotionally prepared for the operation. 
Breast implant removal surgery is performed under the effect of a general anaesthetic. Time-wise, the operation takes 1-2 hours. Keep in mind that you'll be given an admission time, which means that you'll need to be at the hospital about an hour before the time of the operation.
Once admitted into the operating theatre, the nursing team will begin preparing you for the operation. You may also have your blood pressure tested. The surgeon will start breaking down to you what the procedure entails. Further, the surgeon will take pre-operative photos and will mark your breasts before starting to operate on them. 
Getting into the procedure itself, you'll be given general anaesthetic by the anesthesiologist. When the effect of the anaesthetic kicks in, your plastic surgeon will cut open the existing scars in order to remove the implants.  Based on the condition of the patient, implants, and capsules, the surgeon may or may not perform a breast capsulectomy or enbloc. 
If you're just having a basic breast implant removal, the incision will be sealed with dissolvable stitches and then covered with tape. If you're having your implants replaced, your surgeon will begin positioning them inside the breast pocket before sealing the incisions. 
After that, the surgeon will help you put on a surgical bra that you'll need to wear throughout the entire recovery period to help support your breasts. Then, you'll be taken to the recovery room to rest until you're discharged safely from the hospital. Be sure to make plans for a close relative or friend to pick you up after you're discharged. 
What to Expect After the Procedure?
After breast implant removal surgery, you'll be required to avoid all strenuous activity for at least a week. The results of the operation aren't just dependent on what happens during surgery, but also what happens before and after the surgery. So, be sure to get enough rest and to avoid chores, lifting heavy objects, and so forth. 
After the first week, you can engage in lighter activities or exercise. You can go cycling or go for a week, but still, you have to avoid strenuous tasks that require vigorous movements, meaning you can't lift weights or engage in contact sports, as examples. 
After around the sixth week, you can return to your regular lifestyle. Keep in mind, however, that you'll still be required to wear your surgical bra for a while. During the first week, you must wear the bra day and night. After the first week, you can wear it only during the day if you'd like. 
If you're a working woman, you'll have to take around two weeks off of work in order to recover completely. The more strenuous your job, the more time you'll need before returning to it. If you experience any pain, please refer to your surgeon before taking any painkillers.
You may be required to attend follow-up appointments. The first follow-up appointment will usually take place one week after the operation, and it'll likely be with one of the nurses at the clinic. This appointment is basically a check-up. The second appointment will likely take place six weeks after the operation, and it's going to be with your surgeon. 
As usual, we strongly recommend referring to your cosmetic surgeon with regard to specific details about surgery aftercare.
What Is the Difference Between Silicone and Saline Implants?
If you're going to have a replacement after having your old implants removed, you may find yourself contemplating whether you should opt for silicone or saline implants this time around. 
Silicone implants are composed of silicone gel, which is an inert polymer that doesn't result in any allergic reactions. It's a lot like gummy bear candy. Silicone gel is a lot more viscous than saline, and so it flows in a way that makes it look and feel natural, almost the same way breast tissue feels. 
Saline-filled implants, per contra, are composed of a silicone outer shell that's filled by a volume of saline fluid. Note that saline is basically sterile salt water, and so it has the same consistency as water, which, in turn, makes for a ripple or wrinkling sensation under thin skin. 
The main advantage that saline-filled implants have over silicone implants is that they can easily be adjusted via remote injections ports, which is quite the common feat in a lot of plastic and reconstructive breast procedures. 
Difference Between Capsular Contracture and Implant Rupture
Capsular contracture is when too much scar tissue is built up around the breast implants, which is quite a rare occurrence. Breast implant rupture, on the other hand, is when the implant splits. This is also a pretty rare occurrence.
The connection between these two scenarios and probably the reason why a lot of people get them mixed up is that ruptured breast implants are, in most cases, the reason behind late-onset capsular contraction. 
If they are to take place, these two scenarios tend to take place early on, during the first three years of having breast implants, to be more specific. This is important to take into consideration when assessing the post-operative coverage plan provided by your chosen clinic. 
FAQs
Do You Have to Replace Breast Implants?
All breast implants have a lifespan of 10-15 years, so even if you don't have to replace them now, you'll need to remove them at some point in the future. It's highly recommended that you check your breast implants via MRI scans on an annual basis to ensure they're in a proper state. 
After 10-15 years have passed on your breast augmentation surgery, we recommend having a breast implant removal or replacement. 
How Will My Breasts Look After Implant Removal?
It all boils down to the breast implant removal procedure you opt for. If you have a removal with no replacements, the skin will likely retract, leading your breasts to look almost the same way they looked before your breast enlargement surgery. 
If you opt for a replacement after implant removal, chances are you'll look pretty much the same as you look now, depending on the size of your new implants. If you opt for a breast uplift after implant removal, your breasts will have a natural pert look.